Tuesday, August 5, 2008-Day Five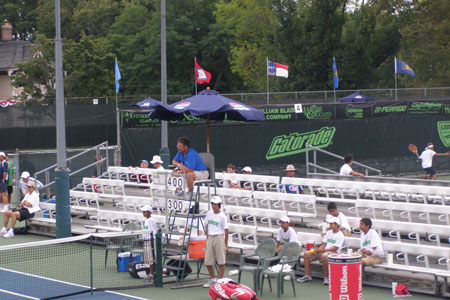 Round four brought the first major upset at Kalamazoo as the humidity increased and the play got even more intense.
They say good things come in small packages, and in this land of the tall, Spencer Newman is the petite player with the strokes that matter. The No. 20 seed proved it today with a 4-6,6-1,6-2 victory over the top-seeded Harry Fowler in the 16s. I only got to see it for a few moments here and there, but the sound of the applause at the end was nothing I'd ever heard in the fourth round of a junior tennis match.
Despite a slow start, No. 8 Junior Ore got past Thomas Pham (23),6-4,6-3. I found Nathan Pasha (16) looking even better than he did at the Claycourts as he beat Robert Verzaal, 6-3,6-3, and it was an easier victory for No. 15 Nelson Vick over Alex Yermanos. Most of the 16s matches moved along quickly, with only seeds remaining in the round of 16. The only exceptions other than the upset were Clay Thompson (11) in a close 5-7,6-3,7-5 over Justin Shane (24); No. 12 Ben Guthrie's 6-4,4-6,7-6(5) past Daniel Ho (18), and the spectator's match of the day -- Zachary Leslie (12) and Gregory Andrews (25).
Gregory Andrews was the last Michigan player left in the draw and also happened to be from Kalamazoo. If crowd support could win a match, he would have had it, but it wasn't quite enough to pull him through a very close and exciting 4-6,6-3,6-4 loss.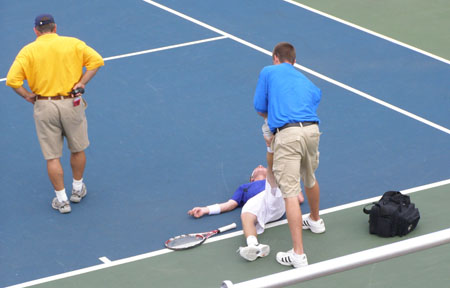 The boys 18s results on Tuesday produced no real surprises. It was unfortunate that Jarmere Jenkins (9) and James "Bo" Seal (20) didn't get to finish, but after winning the first set, Bo (above) started cramping at the end of the second, and could barely move for the last few points as Jarmere evened it 6-4,4-6. He couldn't get over the leg pain enough to finish the third. The Rhyne Williams (12) vs. JT Sundling match was full of incredible points and two great sets before Rhyne's 7-6(5),5-7,6-1 win.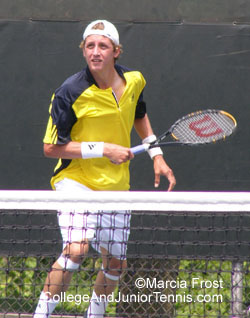 I was a bit perplexed as to what happened to No. 10 Tennys Sandgren (right) during his match with No. 21 Alex Llompert as Tennys was quickly up 4-1 in the first and I came back to find him down 4-6, eventually also losing the second 6-3. There was a huge crowd (mostly college coaches) around Ty Trombetta (6) vs. Ryan Noble (22). I finally gave up, but was told Ty's 6-3,3-6,7-6(4) was an accurate account of what happened. The lone upset in the boys' 18s was Ian Chadwell's 4-6,7-6(5),7-5 win over No. 14 Brennan Boyajian While an unexpected exciting match, it was one. Everyone else advanced in straight sets, with the easiest continuing to be the second seed -- Chase Buchanan, who today shut out No. 32 Frank Carleton. Ian is the only unseeded player heading into the round of 16.
Wednesday will be my final day in Kalamazoo before I head off to Berkeley, California, for the Girls' 18s Nationals. My flight isn't until early evening so I'm hoping to get to see a decent amount of the singles action.
Until tomorrow,
Marcia Frost
Click Here For The Official USTA Nationals Boys 18 Website
Click On A Photo To Enlarge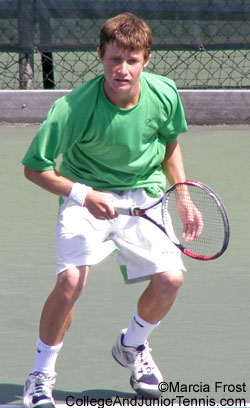 Spencer Newman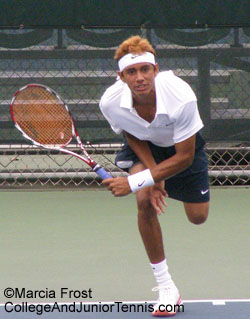 Junior Ore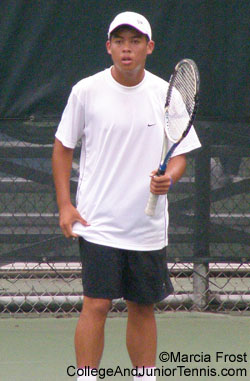 Thomas Pham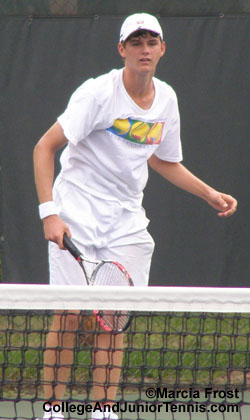 Robert Verzaal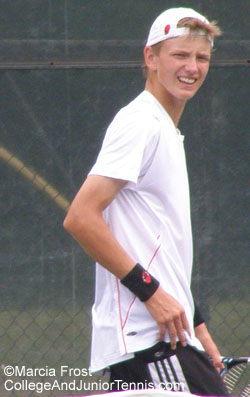 Nelson Vick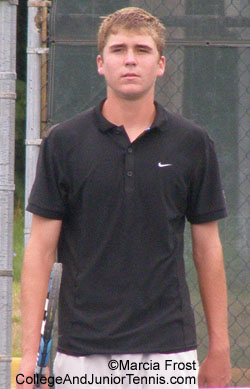 Alex Yarmanos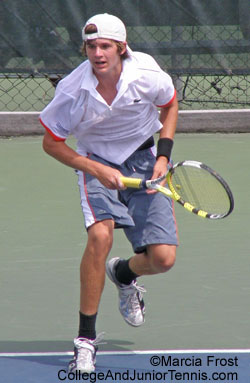 Zachary Leslie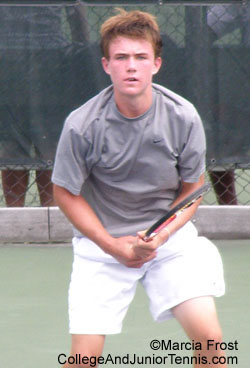 Gregory Anders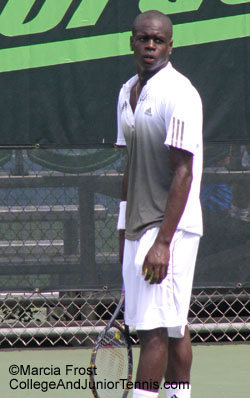 Jarmere Jenkins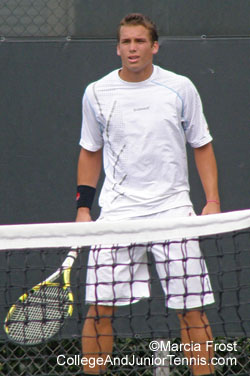 Alex Llompart
Check the new TripAdvisor for great deals on hotels