Friday, August 10, 2007-Day Seven, My First Day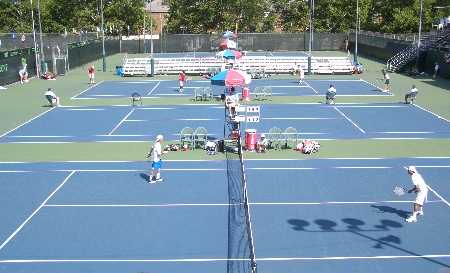 It is impossible to be in the world of Junior Tennis without constantly hearing about the legendary Kalamazoo. It is the premiere event for boys in the country (maybe the world) as the entire town welcomes the USTA Boys' 18 & 16 National Championships. And, for the first time, I am able to experience it for myself.
I arrived at Kalamazoo College Friday afternoon when singles play had concluded. I was immediately struck by how different this is from any junior tournament I've been too. The College stadium gives a feel more like the NCAAs than the Junior Nationals. Crowds fill the (thankfully) covered stands and people wander as if at a Grand Slam.
As the surroundings seemed to take all my attention, the only tennis I did see was part of the Boys 18 semifinal doubles, won by Tyler Hochwalt & Michael McClune. Austin Krajicek & Jarmere Jenkins, last year's U.S. Open Junior doubles finalists, would have gone on to a third place playoff after the match, but Bradley Klahn was forced to pull out with an injury so there was no playoff. Austin & Jarmere received their 3rd Place Trophy and Bradley's partner, Dennis Nevolo, picked up the 4th on behalf of the duo.
On Saturday I will get to see some outstanding consolation matches (Adam El Mihdawy vs. Kellen Damico, Dennis Kudla vs. Ryan Noble, for example) before the semifinals. In the 16s semis it will be Tennys Sandgren vs. Evan King and James "Bo" Seal vs. Lawrence Formentera. Michael McClune vs. Ty Trombetta and Ryan Thacher vs. Mateusz Kecki will play for the 18s.
Check back tomorrow, because it's going to be an exciting weekend in Kalamazoo!
Until Tomorrow,
Marcia Frost
Click Here For The Official USTA Nationals Boys 18 Website