Saturday, August 11, 2007-Day Eight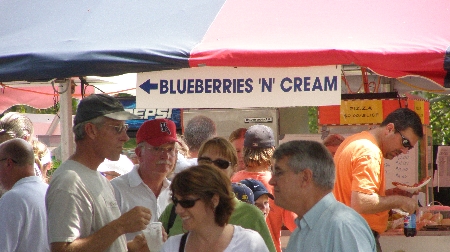 It was a long day of tennis in Kalamazoo as the USTA Boys' 18 & 16 National Championships. winds down to the final group of players. And I got used to the excitement that is Kalamazoo, complete with all matches chaired with umpires, while the seating was for sale in the stadium. There was plenty of seating on this warm and humid day. No one in the large crowd complained as they ate their blueberries & cream and enjoyed top-notch tennis.
The day began with the quarterfinal consolation round and few surprises. The matches finished rather quickly with the 18s semis going back on the court in the afternoon. Since JT Sundling had a doubles final in the afternoon, it was decided that the 16s wouldn't play consolation again until the morning when he will face Dennis Kudla and Matthew Kandath will play Walker Kehrer.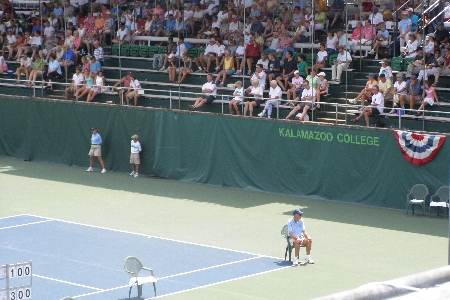 Despite a quick and easy win in the morning against second-seeded Kellen Damico, 29th seed Adam El Mihdawy wasn't able to get past No. 25 Jeff Dadamo in the afternoon. Jeff will play Ryan Harrison for 5th place. Unseeded Ryan advanced with wins over Jordan Rux (15) and Austin Krajicek (8).
Between the consolation matches the main draw continued to the final rounds. The first was the 16s match up between second-seeded Lawrence Formentera and fourth-seeded James "Bo" Seal. It was a 3-0 start for Lawrence, but that was definitely not a sign of things to come. Bo came alive with precision play and fantastic volleying to win six straight games, taking the set. The second set was very much like the first, though the points and games were longer, as the first two games went to Lawrence before Bo took control and his place in the final.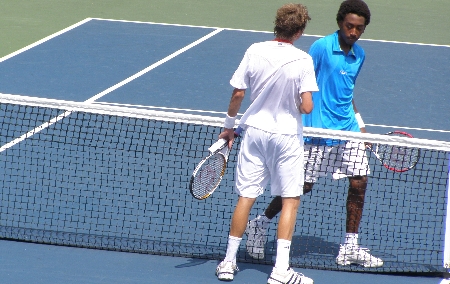 I haven't seen Tennys Sandgren play in quite awhile and he has certainly grown with his ability. That was evident today with his match against Evan King (pictured above). I have seen the talented Evan play quite a bit and I can say that he was not on his usual game today. Every game in the first set belonged to Tennys as he completely took over. The second was a bit better, even starting with a long first game, and Evan took the lead at 3-2 and kept it for three more games and the set. In the final set, though, he couldn't continue the momentum and fell 6-1.
It's interesting to note that while the 18s players did seem a bit larger, I really didn't see that the level of play was that much higher. Top-seeded Michael McClune, the only professional player in this tournament, took on Ty Trombetta (30) with precision. There were a few crowd-pleasing points in his 6-3,6-1 that included an 11-game winning streak. The points were definitely more exciting from the start with No. 3 Ryan Thacher and No. 6 Mateusz Kecki, but a shoulder problem that didn't respond to treatment on court didn't help and Ryan took it, 6-2,6-4. (Mateusz withdrew from the 3rd place playoff, giving Ty Trombetta an automatic silver ball.)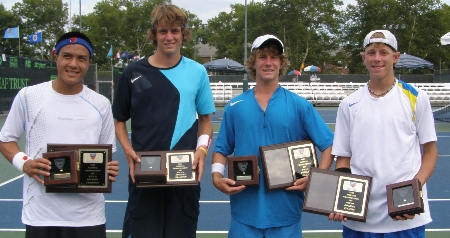 The doubles play was fun to watch in both age groups. Daniel Nguyen & JT Sundling (pictured above left) had the edge throughout the match over Ryan Noble & James Seal (pictured above right). They took the first set (6-2) and kept up the pressure even though they dropped the second (6-4). The third was more theirs, with some outstanding doubles play from all, 6-2. In the 18s, Nate Schnugg & Kellen Damico, who not only have a Junior Wimbledon title to their credit but can brag that they beat Jim Courier & Todd Martin in an exhibition here, made it clear that they came out today to win another trophy. They received a challenge in the first from Michael McClune & Tyler Hochwalt to 7-5, however, the second was all their's with big help from Nate's unreturnable serve, 6-2. Also in doubles, Sekou Coker Bankoura & Nelson Vick took third place over Chris Camilione & Raymond Sarmiento. Sekou was also the Sportsmanship winner for the 16s.
At the awards ceremony for the 16s doubles, Bo Seal's father remarked how the two doubles teams -- who were getting ready to play each other the next day -- sat together at the dinner table the previous night. He thought it was a great testament to the character of the boys. I see it in the spirit of Kalamazoo that will continue with Sunday's singles finals.
Until Tomorrow,
Marcia Frost
Click Here For The Official USTA Nationals Boys 18 Website
Click On A Photo To Enlarge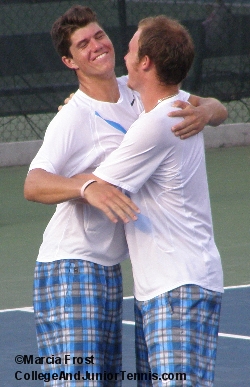 Nate Schnugg & Kellen Damico
Adam El Mihdawy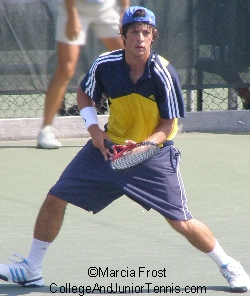 Lawrence Formentera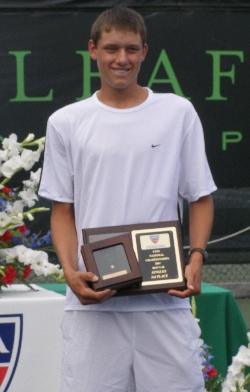 Ty Trombetta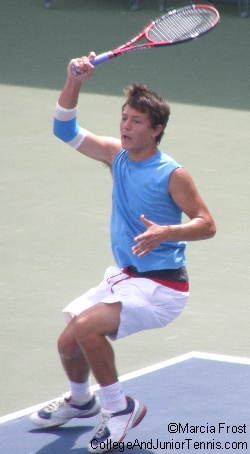 Mateusz Kecki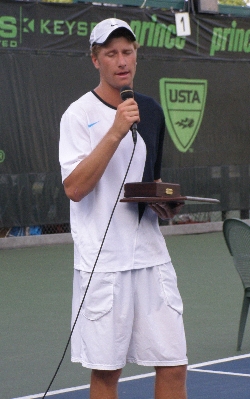 Tyler Hochwalt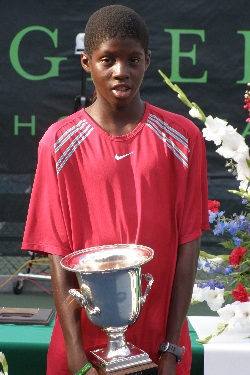 Sekou Coker Bangoura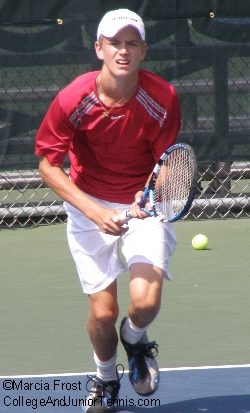 Nelson Vick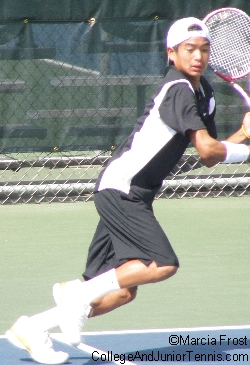 Raymond Sarmiento
Chris Camillione
Monthly Guides to
College Tennis Planning
Available in Kindle & Print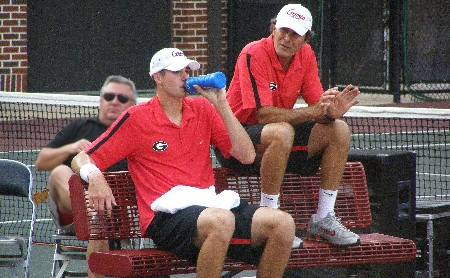 College Tennis featured in
American Doubles...
---

Monthly Guides to
College Tennis Planning
Available in Kindle, Print & EBook
for H.S. Seniors
and H.S. Juniors
---
---
Monthly Guides to
College Tennis Planning
Available in Kindle & Print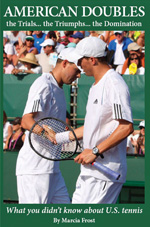 ---
---
Monthly Guides to
College Tennis Planning
Available in Kindle & Print

Sibling Pairs featured in
American Doubles...
---
Return to:
College And Junior Tennis