August 6, 2011
Day One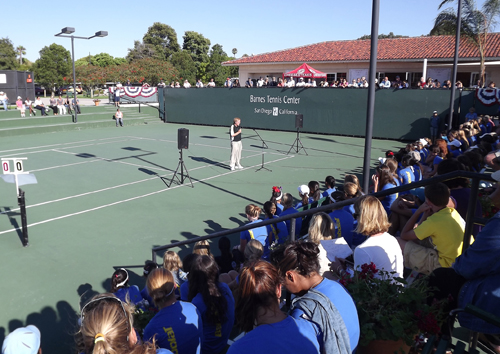 The sun continued to shine down on the Barnes Tennis Center in San Diego on Saturday, but without the extreme heat and humidity I've found throughout the rest of the country this year (and many places are still experiencing).
It was the first day of play for the Girls' 16s, while the 18s started to arrive. I'm staying at the host hotel, the Hilton San Diego Mission Valley, and it's been great running into players and coaches I haven't seen in awhile. I had a great chat with Georgia Tech coach Bryan Shelton, who gave me a ride to the tournament along with his assistant. I hadn't seen Alison Silverio since she clinched the 2007 NCAA Championships. I also ran into someone who is anxious to lead the Yellow Jackets in that same direction, incoming freshman Jasmine Minor. I look forward to watching her in play.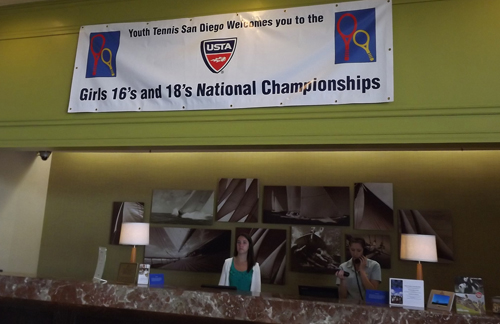 All of the seeded players in the Girls' 16s had the day off today so there was no possibility for upsets. There were some long matches out there, with 14 heading to three sets. It's impossible to really watch any matches the first few days. I saw a bit as I took some photos and wandered over the College Coaches Forum. It was buzzing with excitement as for many of the girls it was there first opportunity to sit down and speak directly to the coaches. There were over 40 coaches inside and out, and everyone seemed to agree it was a great experience.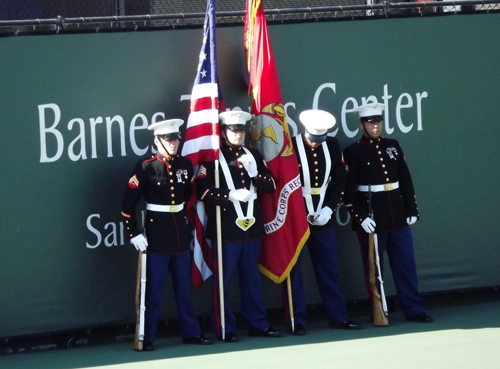 In the evening, all players and their families headed to the Stadium Court at the Barnes Tennis Center for the Opening Ceremony. It began with an intro from Kerry Blum of Youth Tennis San Diego after a performance by the Navy Band Southwest. San Diego Tribune columnist Logan Jenkins then took the stage and welcomed what he called "the best the country has to offer" in girls American tennis. We then watched the Marine Corp Color Guard present the colors. The band played the National Anthem, signifying that the tournament had officially started.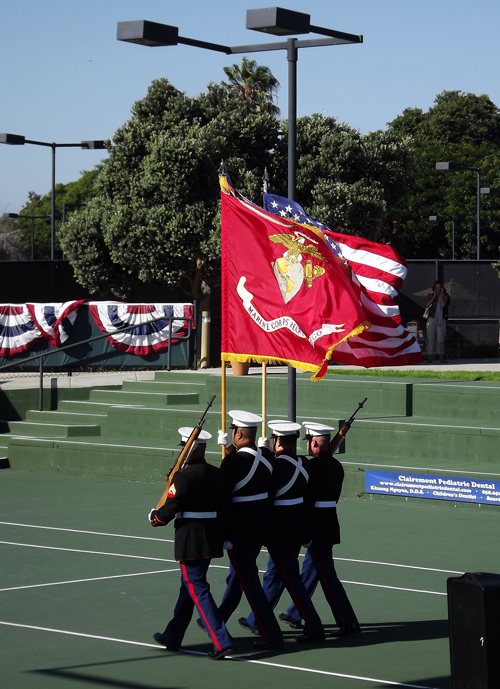 Before the group photo, referee Darren Potkey welcomed the players, and their families and co-tournament directors Ellen Ehlers and Liz Blum reminded the girls of the dress code for the tournament (nothing out of the ordinary except an avoidance of compression shorts). A buffet dinner was served before everyone headed back to their hotels.

I will only be at the Barnes Tennis Center site on Sunday (the girls will also be playing at San Diego State University and the University of San Diego the first few days), but it looks like I will still have plenty to watch as the Girls' 16s seeds take the court and the 18s begin play.
Until Tomorrow,
Marcia Frost
If you are interested in purchasing photographs for personal use from the USTA Girls' 16 & 18 Nationals, contact Marcia@MarciaFrost.com.

click on photo to enlarge
Create an Amazon Wedding Registry
---
<

Monthly Guides to
College Tennis Planning
Available in Kindle, Print & EBook
for H.S. Seniors
and H.S. Juniors
Create an Amazon Wedding Registry
Return to:
College And Junior
Tennis Homepage