Monday, August 6, 2007-Day Two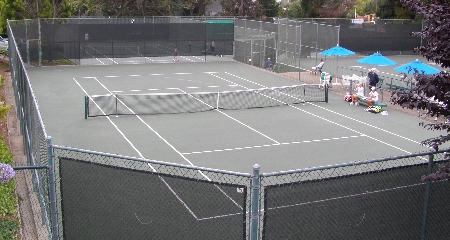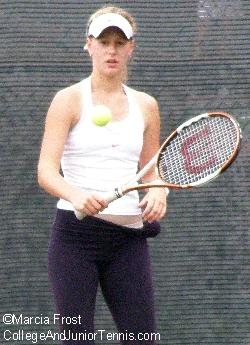 It was a chilly day in Northern California, the kind you expect in late winter or early spring. Few were prepared as they huddled in blankets -- or kept it moving on the court.
I started the day with the intention of focusing on some matches, however, there was just too much going on and not enough at any one to pull me in for too long. Hilary Davis (17-32) and Lindsey Dvorak had a pretty even match going with the slight 6-4,7-5 edge to the seed. No. 16 Alison Riske (pictured left) and Stephanie Hammel played quite the performance, groaning in sync as Alison flowed to the 6-3,6-2 win. I stayed for awhile to watch Girls' 16s Nationals winner Lyndsay Kinstler take control over Veronika Wojakowska, 6-2,6-3. And it was a similar scenario (6-2,6-1) for 17-32 Monica Chow and Alexandria Walters.
Although Julia Boserup shut out Amanda Dibbs on paper, Amanda was definitely in the match, as was Cassandra Herzberg in her 6-2,6-2 loss to Shinann Featherston (17-32). I enjoyed catching up with Jamie Hampton before her quick win over Michelle Kedzierski, 6-0,6-2. And Stefanie Nunic, who blanked Allison Wickman, asked me to pass the word that she is definitely not considering college right now and will take a year off.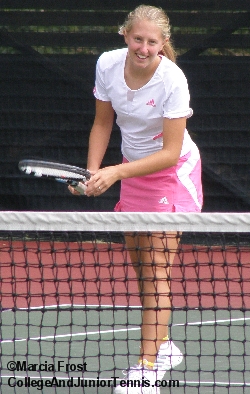 I watched some great doubles in the afternoon as the only seeds to fall were Hillary Davis & Keri Wong to Alison Ramos & Lauren Ritz -- not a shocker -- and Amy Allin & Heather Steinbauer in a close one to Stephany Chang & Leyla Entekhabi, 6-7(7),6-3,6-4. I was impressed with how much fun Lauren Hankle & Jennifer Holzberg (pictured right) had while second-seeded Jamie Hampton & Melanie Oudin quickly took every game in the match.
There were complaints about weather and parking, but all the matches were on time (many went on early) as the majority were quick and easy. In fact, there were 10 three-setters out of the 64 matches. There were also only minor upsets among the alpha seeds with Ryann Cutillo falling to Lauren Greco, Lindsey Hardenbergh taking out Heather Steinbauer, Olivia Janowicz beating Camille Jania and Rachel Saiontz over Nelly Radeva.
As the draw tightens I'm expecting the matches to do the same. There are a number of unseeded players here who may pull out some surprises, but I'm not quite ready to devulge my predictions!
Until tomorrow,
Marcia Frost
Click Here For The Official USTA Nationals Girls 18 Website
Click On A Photo To Enlarge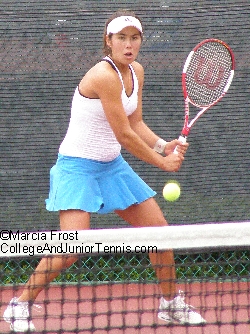 Stephanie Hammel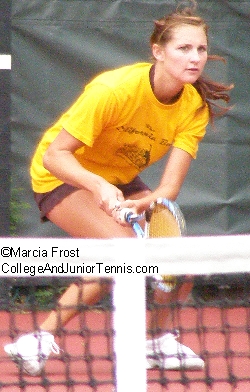 Lyndsay Kinstler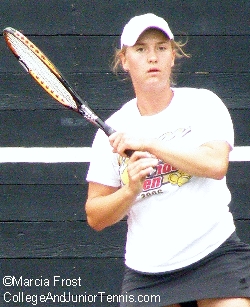 Veronika Wjakowska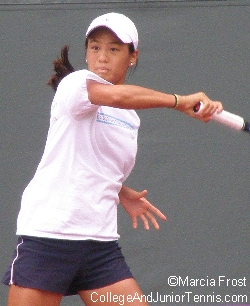 Monica Chow
Alexandria Walters
Amanda Dibbs
Cassandra Herzberg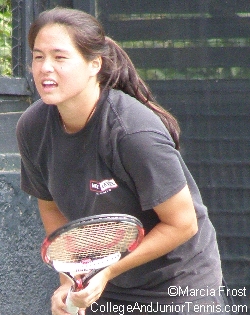 Jamie Hampton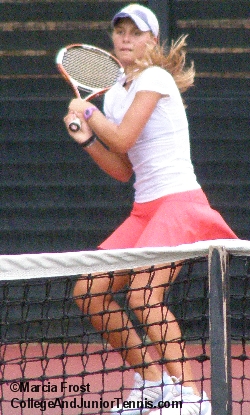 Lindsay Dvorak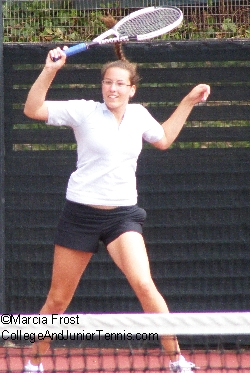 Laura Hankle
Check the new TripAdvisor for great deals on hotels
Monthly Guides to
College Tennis Planning
Available in Kindle & Print

Sibling Pairs featured in
American Doubles...







Monthly Guides to
College Tennis Planning
Available in Kindle, Print & EBook
for H.S. Seniors
and H.S. Juniors