Tuesday, August 7, 2007-Day Three



It was a day full of upsets as the seeds fell, the matches got longer and the sun (finally) came out to warm us all up.
Seeding is very difficult in a tournament that includes those who are play tournaments on the ITF, WTA, USTA Pro and USTA National Junior circuits so there are a few "upsets" that are not surprising. Such was the case in Lyndsay Kinstler's 6-3,3-6,6-4 win over Hilary Davis (17-32). The match gathered quite a few spectators expecting to see a good one and then got it. I would have liked to have stayed longer, but there was just so much good tennis going on!
Alpha-seeded Kristie Ahn took an early lead against Alison Ramos. I thought it would be a close one and, though the first set went to 6-4, it was a quick 6-1 second. No. 7 Stacey Tan had no problem with just 14 year old Ester Goldfeld, and Julia Boserup got past Monica Chow (17-32) fairly quickly too. Though the score doesn't reflect it, it was close with long games between Kristy Frilling and Claire Bartlett 17-32, with Kristy losing just three of those games.
Stacey Lee (17-32) was struggling against Jacqueline Cako in the first set, losing 6-3, but seemed to have more momentum in the second and took it 6-2, but she couldn't keep it up and didn't win a game in the third. The match of the day -- which I went back to a few times -- was definitely Shinann Featherston vs. Tayler Davis. There were great points, great games and an edge-of-your-seat first set tiebreaker won by Tayler at 8-6. Shinann came back for a 6-4 win of the second and had a break in the second, but the 17-32 seed was upset with 6-4 in the third. No. 14 Courtney Clayton also lost today to Leyla Entekhabi)
The McHale sisthers continue to hold national attention as No. 11 Christina dominated Kayla Duncan (6-0,6-1), while older sis Lauren (16) took a bit longer before beating Hayley Hemm, 6-2,6-4.
Until tomorrow,
Marcia Frost
Click Here For The Official USTA Nationals Girls 18 Website
Click On A Photo To Enlarge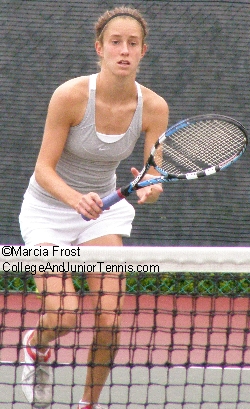 Hilary Davis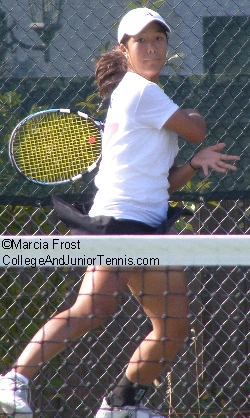 Kristie Ahn
Alison Ramos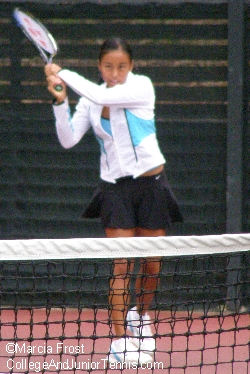 Stacey Tan
Check the new TripAdvisor for great deals on hotels
Monthly Guides to
College Tennis Planning
Available in Kindle & Print

Sibling Pairs featured in
American Doubles...







Monthly Guides to
College Tennis Planning
Available in Kindle, Print & EBook
for H.S. Seniors
and H.S. Juniors
Return to:
College And Junior
Tennis Homepage