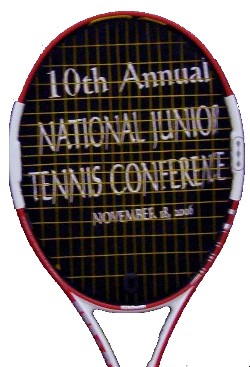 November 17-19, 2006


One hundred and sixty one players, coaches and parents gathered at the National Junior Tennis Conference in November. Organizer Mark Bey, Director of the CARE Academy, brought together this unique group for a weekend of seminars at the Libertyville and Lincolnshire Clubs just outside of Chicago.
The featured presenter at the 10th Annual event was longtime Stanford Coach Dick Gould, part of an elite group of speakers that included ESPN Analyst and Syracuse Coach Luke Jensen, Notre Dame Coaches Bobby Bayliss & Ryan Sachire, Northwestern Coaches Claire Pollard & David Mullins, Dennison Coach Peter Burling, Illinois Coach Kent Kinnear and Junior Developers Craig O'Shaunnesy, Jorge Capestany and Bill Clark. Recent NCAA Champion Alexis Prousis, Easter Bowl & National Winter titlest Evan King (both CARE Academy students) and No. 1 nationally ranked junior Brennan Boyajian and were among the players participating.
One of the highlights of the weekend was a panel discussion beteween parents and experts on junior tennis, led by Jon Vegosen, Chairman of the USTA Collegiate Committee. There was also a High Performance training camp that included 48 players.
In the decade the Conference has taken place there have been over 1,700 participants, including Coaches Wayne Bryan, Nick Saviano and Chuck Kriese, as s well as players Paul Goldstein and Scoville Jenkins. It is the only annual event of its kind that allows players, parents and coaches to interact about junior and college tennis.

Featured Speaker-Former Stanford Coach Dick Gould

Mark Bey leads opening Coaches Workshop

CARE Academy Players from the past and present

Craig O'Shannessy, Kent Kinnear, Bob Pass, Dick Gould & Mark Bey

Brennan Boyajian

Junior boys Participating in the training camp

Dennison Coach Peter Burling

Augie Bloom

Junior Developer Bill Clark (with Mark Bey)

Stringing Expert Mark Campanile

Dennis Nevolo

Master Professional Jorge Capestamy

Notre Dame Asst Coach Ryan Sachire

Syracuse Coach Luke Jensen

Northwestern players Alexis Prousis and Georgia Rose with Assist Coach David Mullins

Kristina Minor

Jasmine Minor

Closing seminar by Mark Bey
Monthly Guides to
College Tennis Planning
Available in Kindle & Print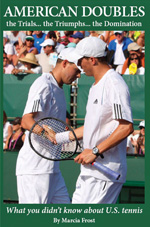 ---
---
---
---
---




br> Monthly Guides to
College Tennis Planning
Available in Kindle & Print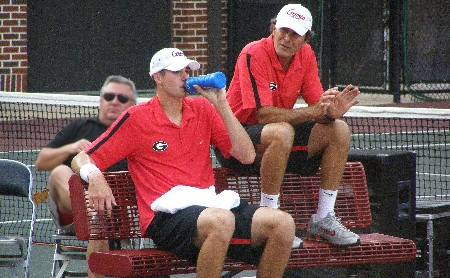 College Tennis featured in
American Doubles...
---
---
Return to:
College And Junior Tennis