2005 SEAL BEACH USTA NATIONAL OPEN CHAMPIONSHIPS
Lakewood Tennis Center - Lakewood, California - July 2-6, 2005
Lakewood National Open Girls 18s
Seeds Fall and Sisters Rule by Bob Carpenter
The Lakewood Girls 18s National Open, held at Seal Beach Tennis Club, proved to be topsy-turvey as far as seeds were considered with seven of the top 16 seeds losing by the second round. The fact that the finals were played between a #5 and a #10 seed is unusual too but the quality of tennis all around the facility was certainly top notch. Congratulations go to the champion Leyla Entekhabi of Southern California for her 7-6, 6-3 victory over Utah's Lauren McFarlane.
Top seed Cosmina Ciobanu was unable to play her second round match due to illness and #2 seed Nazlie Ghazal dropped out during the quarterfinals with an injury. The 3-4 playoff was between two unseeded players, winner Katarina Reveche and Bianca Aboubakare, who retired at 0-5 with illness.
The consolation draw was filled with seeds but in the end the semifinals included only one; Tania Mahtani. Nadia Abdala made it all the way to the consolation final and put up a good fight in a hard-fought three-setter but Mahtani was able to nuetralize the big hitter with a 6-1, 2-6, 6-4 victory. Jennifer Yen from Northern California earned a reputation as a seed-beater as she took down Whitney Petersen and Julie Chao but she couldn't prevent Jill Damion from advancing to the semi-finals of the consolation.
In the doubles, it became clear rather quickly that if you weren't playing with your sister, you weren't going to win. Three pairs of sisters competed with Lindsey Griffin and Alexandria Griffin bowing out early against the tough team of Lauren MacFarlane and Lyndsay Kinstler. The other two sibling teams advanced all the way to the finals to play each other. Team Aboubakare (Bianca and Carissa) faced off against Team Abdala (Laila and Nadia) in a Pro Set that ended up 8-3 in favor of the Abdalas.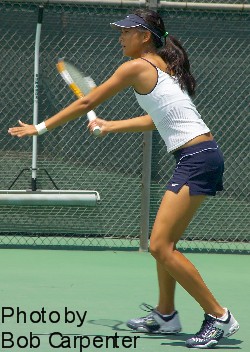 Katarina Reveche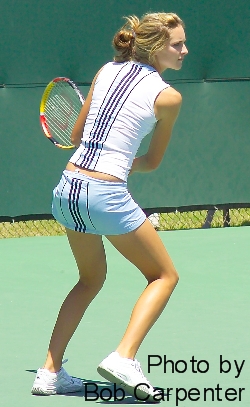 Lyndsey Kinstler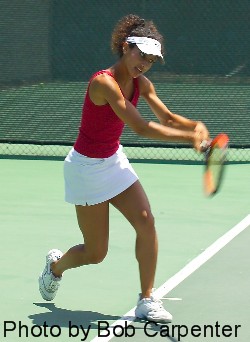 Nazlie Ghazal
Click On A Photo To Enlarge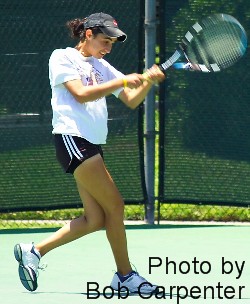 Leyla Entekhabi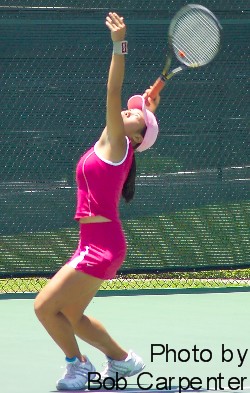 Rebecca Lin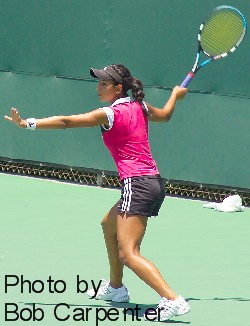 Tanvi Dudhela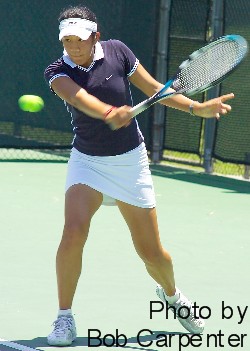 Jennifer Yen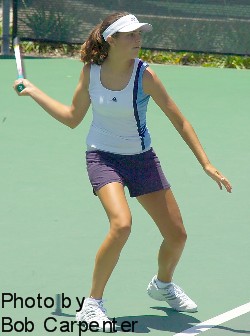 Tania Mahtani
Monthly Guides to
College Tennis Planning
Available in Kindle & Print





College Planning Made Easy...
Check out the Monthly Guide to College Tennis Planning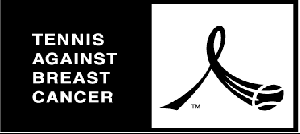 Return to:
College And Junior
Tennis Homepage