Saturday, December 27th-Day One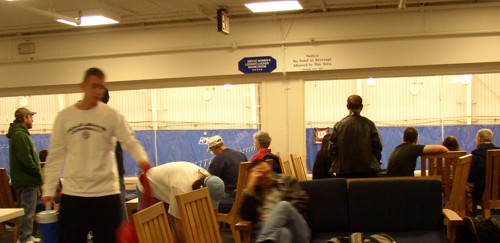 A cornacopia of tennis players took over the USTA National Tennis Center for the Men's and Women's National Open Championships. The unusual mix of players included juniors, college players, professionals -- even a college coach and the NTC Director of Tennis. At the end of a very long day there was still a surprising number of amateurs left standing.
Juniors Megan Zebroski and 14 year old Stefana Petrelli faced off in the women's singles with the edge going to 17 year old Megan, who made it to the quarterfinal singles and third place doubles in this event last year. Other juniors who made their way through the women's singles draw were Dasha Cherkasov and Vlada Grigoryeva, the youngest player in the tournament at 13. (Polina Zaretser did not have to play her first round event due to a default.)
The men's draw was full of college players with only one junior player emerging victorious. Rusian Chowdhury, last year's sixth place winner, eliminated Paul Smith and Nicholas Gravugna to earn his way into the third round to play seventh-seeded Michael-Ray Pallares. The other junior who will play main draw singles on Sunday, Jonathan Bonnet, had the easiest day of all as he moved to the round of 16 with two defaults.
Among the college players who advanced were Ian Arons of Indiana University, Colgate's Reed Hagmann, Eric Langenkamp of Notre Dame (last year's finalist), Florida Tech's Keith Kessler, Nathan Forster of Charleston Southern and the University of Miami's Josh Cohen. Defending Champion David Lowenthal of Wake Forest was forced to withdraw due to an injury, but teammate Andrew Simpson competed and won his two matches.
The Men's and Women's USTA National Open Championships includes a few surprise entries. Bill Mountford, Director of Tennis for the NTC, competed in men's singles, falling to David Noonan. He will continue on in consolations. Princeton Coach and former college and junior star Glenn Michibata received a bye in the first round and then defeated junior Kyle Doppelt in the second. Entering the mixed doubles event is former NCAA singles champion Bea Bielik, who frequently trains at the National Tennis Center since turning professional.
Sunday will be another long and exciting day as singles play continues and the draws begin with the consolations, doubles and mixed doubles. I'll be back to report on how the college and junior players are doing among the pros.
Marcia Frost
Return To 2003 National Open Index