Monday, December 27th-Day One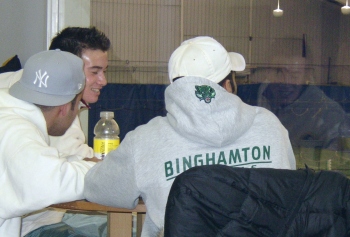 It was Men's Day at the National Tennis Center, more specifically College Men's Day, as the campus crowd dominated the day.
University of Miami's Josh Cohen, the top seed and last year's singles winner, had no problem advancing to the third round with a win over Princeton's Andrew Husby. Notre Dame's Eric Langenkamp, who was a third place winner last year and a finalist in 2002, moved on past Andrew's brother and teammate, Christian, after he was forced to retire with an injury.
It was an all Quinnipiac match as Michael Racioppo upset teammate -- and No. 12 seed -- Jonathan Russo. Michael will now face Binghamton's Krishna Vallabhaneni. It was an easy go for Krishna's fellow Bearcats Faisal Mohamed, who did not lose a game in his first two matches, and Alex Dobrin, who only gave up five. Daniel Brous of Cornell squeaked by the sixteenth-seeded Keith Kesller (7-5,4-6,7-5) after Keith had defeated Colgate's Brooks Hopple.
Stanford's James Wan, the No. 4 seed, had no problem getting past Columbia's Marty Moore, but Marty's teammates Rajeev Emany and Mark Clemente had better days as they won both of their matches. The eleventh-seeded Alex Stone of Duke and fourteenth-seeded Scott Denenberg of Harvard both advanced.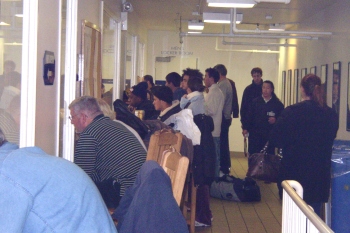 While it was mostly the college players who made it through in the end, there were some juniors who left their mark on the day. I caught a few of these matches and was impressed by Yevgeny Perepelov and Adam El Mihdawy, neither of whom dropped a set. Though they didn't advance, Derek Difazio, Kirkill Kasyanov, Cory Parr and Alex Ashe impressed their elder opponents with some great tennis. The one junior who really excelled was Rhul Marasigan. Rhul upset the No. 5 seed Bradley Sherwood with a three-set victory.
I will be focusing on the women tomorrow as they got a (very) late start tonight and I didn't get to catch any of their matches. The draw looks exciting as some of the best college and junior players will meet each other in the second round.
Until Tomorrow,
Marcia Frost
Return To 2004 National Open Index