Monday, April 10, 2006-Day Two
The rain ended this morning, but left behind a howling wind that haunted the players all day. Wind is alway a challenge for a player and for an 11 year old it can be a frustration they can't always overcome. This is where the top players can really show their strength and today they did.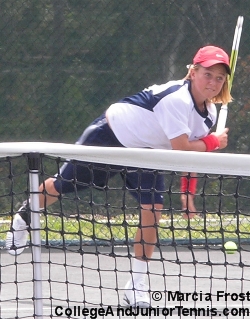 At the boys event in Boca Raton, four seeds have dropped -- No. 5 Sam Bloom, No. 11 Mitchell Polnet and No. 15 Gordon Watson. Top-seeded Mika De Coster (pictured right), a player I love to watch for his flexibility and incredible shots from unbelieveable angles, struggled a bit with the wind in his first set with Rohit Navelkar, but found his way for a quick second and a 7-5,6-0 win.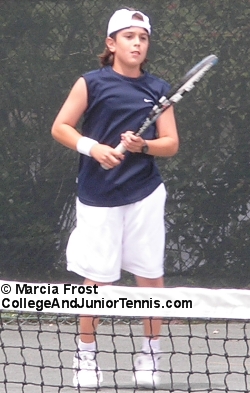 No. 2 seed Bjorn Fratangelo (pictured left) had an easy day as he only lost three games in his two matches. I caught some of his first against Philip Pacyna as he too struggled with the wind a bit. Fourth-seeded Kyle Berman is appearing to be a real one to beat as he ran through his first two matches (quicker than I could get to), blanking his opponents. I look forward to watching him today as well as the match up between Robert Levi (pictured left) and Thomas Pura (TJ). I enjoyed watching Robert beat Carlos De Bracamonte yesterday (6-1,6-0) and TJ's been a favorite of mine for years.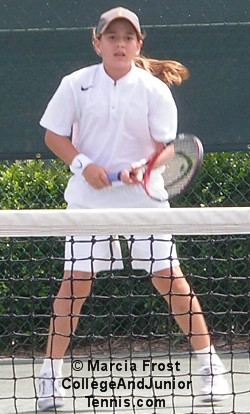 The girls were fighting the elements at the Delray Beach Tennis Center where, again, the top ones proved their seeding. No. 1 Kyle McPhillips advanced to the third round over Nadia Echeverria Alam, as did the No. 2 Blair Shankle (pictured right). I watched Blair, who holds the honor as the first ever winner of four Little Mo National titles, and she appears to be getting better each time I see her. Today she defeated Kendall Heitner, 6-1,6-0, and Athena Tropuvillot, 6-0,6-2.
Most of the seeds have survived the first two days of the girls draw. with just No. 12 Akiko Okuda (pictured left) not breaking the wind and going down to Kate Vialle, 6-3,6-0.
There's lots of tennis set for Tuesday at the USTA National Spring Championships. The sky is going to be clearer, however, the wind will remain so only the toughest will survive.
Until Tomorrow,
Marcia Frost
Click Here For The Full Draws: Boys Girls
click on a photo to enlarge
Alexander Mang
Erik Johnson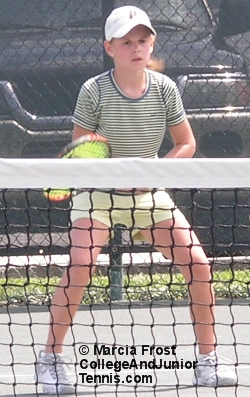 Kate Vialle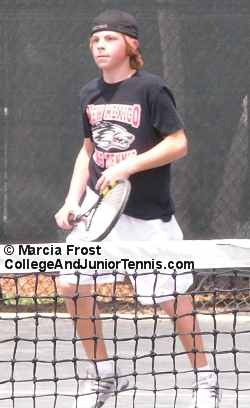 Lorenzo Baca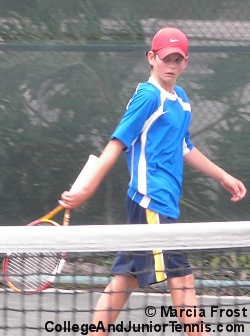 Dennis Novikov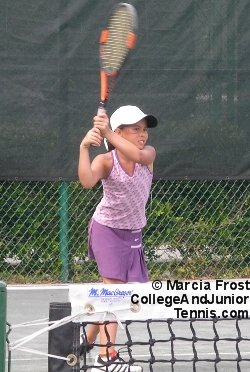 Katrine Stephenson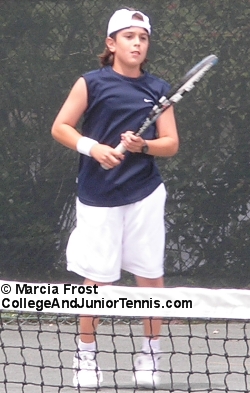 Robert Livi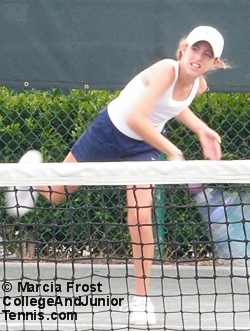 Kendall Heitzner
David Blakeley
---