Tuesday, April 11, 2006-Day Three
After a number of rain induced false starts, the boys round of 32 went off with lots of excitement today at the Boca Swim & Racquet Club and I'm glad I got to see some of it.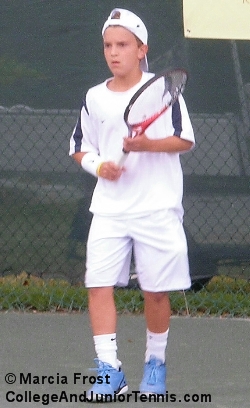 There were only two upsets of the day. I had predicted the match between No. 10 Robert Livi and TJ Pura (pictured right) would be an exciting one and it didn't let me down. In front of a large crowd that included Tom Gullickson and a movie director (see sidebar below), 11 year old TJ used his incredible one-handed backhand and trademark "C'mon!" to overcome a shutout first set and win the next two sets, 6-3,6-1. He now must face the fourth-seeded Kyle Berman. For Kyle it was another quick win (which was once again over before I got there!) as he defeated Conrad Harron, 6-1,6-1.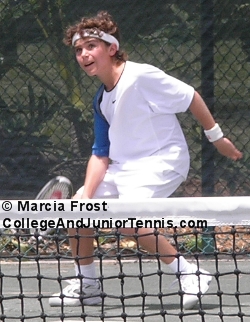 I tried to see as much as possible of the boys matches. The other upset was Harrison Adams over No. 13 Ross Guignon in a match that looked even closer than the 3-6,6-2,6-2 score. No. 12 Joseph DiGiulio (pictured left) had quite a battle on his hands as he outlasted enough long points to get him past Casey Kay, 1-6,6-4,6-4. Another match that was not reflected in the score was sixth-seeded Dennios Novikov vs. Jonathan Cancione. I was really impressed with Jonathan's volleying -- something the 12 and unders are doing more of -- and he kept it close to the 6-1,6-4 finish.

There were so many interesting matches at the boys event that I didn't make it over to see the girls today. Top-seeded Kyle McPhllips was challenged by Allie Robbins before pulling it out, 2-6,6-2,6-2, but No. 4 Madison Cohen couldn't and she succombed to Julia Jones, 3-6,6-3,6-1. The only other upset was Reere Li's 6-3,6-4 win over No. 15 Kelly Poggensee-Wei.

The girls are priority tomorrow as I head to the Delray Beach Tennis Center to watch the round of 16. Though it's been fairly quiet in that draw, with the seeds starting to face each other things should certainly heat up as the under 12 set goes for the gold ball at the USTA National Spring Championships.

Until Later,
Marcia Frost

It's not the Zoo, but...
There has been a lot of secrecy around Jim Courier's documentary following players on the road to Kalamazoo, but one film that is not full of guesswork is being produced by Tom Pura and directed by Jean Talbot. The film is following four 12 and under boys -- TJ Pura, Mitchell Krueger, Joseph DiGiulio & Mitchell Polnet -- throughout their travels and tournament play this year. The director has promised to keep me informed of the film's progress and I will pass the information along as I get it.

Click Here For The Full Draws: Boys Girls
click on a photo to enlarge
Casey Kay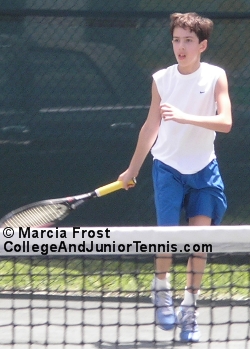 Jonathan Caricione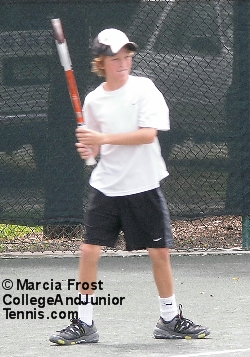 Harrison Adams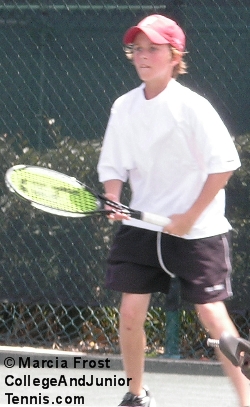 Ross Guignon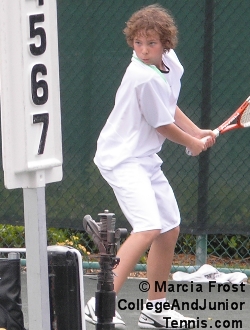 Jason Tahir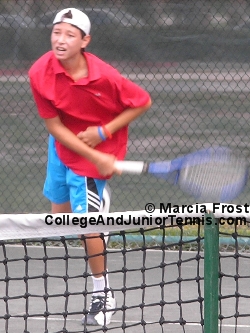 Jermey Efferding
Brendan Aguilar
Andrew Korinek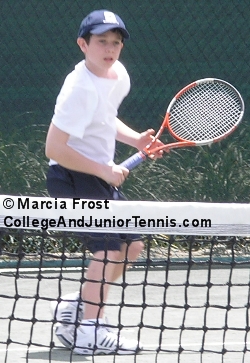 Matthew Barry
Create an Amazon Wedding Registry

Monthly Guides to
College Tennis Planning
Available in Kindle, Print & EBook
for H.S. Seniors
and H.S. Juniors
Create an Amazon Wedding Registry
Return to:
College And Junior
Tennis Homepage