2005 SEA ISLAND RESORTS
USTA NATIONAL SPRING CHAMPIONSHIPS
Delray Beach & Boca Raton, Florida
April 10-16, 2005
Thursday, April 14, 2005
It's been two years since I've been at the USTA National Spring Championships 12s. I had forgotten how different it is to watch players who are still in their first decade. More to the point, how much it is just plain fun.
There's still a certain innocence among the boys playing in Boca Raton that I see today. The ball moves slower and the power is not yet there (a pleasure for a photographer trying to grab a shot). Even losing isn't quite the same when you are guaranteed a minimum of three matches as with the compass draws.
The thing that you really notice is different here is the parents. Many of them are still innocent as well. They make small talk with each other. There are no college scholarships or year end rankings for most of these people to worry about yet. How different it is when the kids are in the 18s and there is so much more at stake.
I arrived in Delray Beach today just as the girls had finished and only made it to Boca Raton for some of the boys matches, but there's a lot more tennis here to be seen as the compass format brings more draws than this writer/photographer can keep up with. I'm going to start small tomorrow -- first with the girls main draw semifinals -- and see where I go from there.
Until Tomorrow,
Marcia Frost
Click Here For The Boys Full Draws
Click Here For The Girls Full Draws
Click On A Photo To Enlarge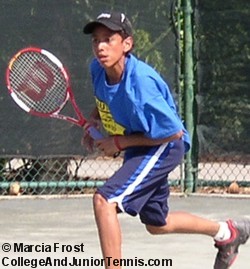 Junior Ore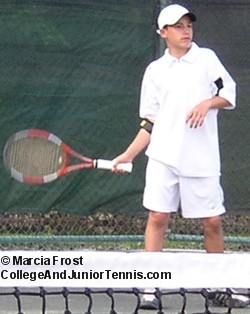 Justin Rossi
Bjorn Frantangelo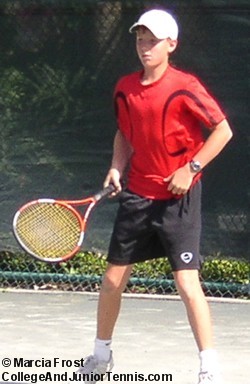 Shane Vinsant
< Create an Amazon Wedding Registry
Return to:
College And Junior
Tennis Homepage