Wednesday, March 23, 2005-Final Day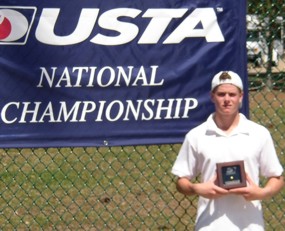 Two unseeded players... Two singles finals... Two very different matches with different results. It was quite a treat today for the locals of Mobile who came out to watch some of the top juniors in the country.

There was nothing wrong with Reka Zsinszka's tennis today, it was just that everything was right with Lindsay Burdette's. Other than a few weak serves and volleys that let Reka in during the second set, the No. 3 seed's performance was near perfect to a 6-0,6-3 win. It was still a terrific tournament -- and a silver ball -- for the unseeded Reka.

It was a completely different situation for the tournament's other unseeded finalist. Clint Bowles (pictured right)wanted it, fought for it, and got it to the tune of a 6-3,6-4 gold ball. Top-seeded Marek Czerwinski was worn out from a week of three-setters (in singles and doubles) and Clint was right on. It was an unexpected conclusion to the tournament, but everyone enjoyed seeing the underdog in the winner's circle.

In the third place playoff for the girls singles, Melissa Mang had an opportunity in the second set when she was up 4-0, but she couldn't get by Eleanor Peters, who had taken the first set and came back in the second for the 6-1,6-4 finish. Julie Blackmore and Alina Sullivan took the third place trophy in doubles from Colleeen Rielley and Christian Tara, 6-4,6-4.

The inagural USTA National Spring Championships in Mobile, Alabama, was a huge success. The large facility of 50 courts was the perfect setting for some perfectly wonderful tennis. I look forward to returning next year -- as do many of the players.

Until Next Year,
Marcia Frost
P.S. Look for my Talking With interviews with Lindsay Burdette, Marek Czerwinski, Reka Zsilinszka, Clint Bowles, Melissa Mang and Eleanor Peters in the days to come.

| | |
| --- | --- |
| Tournament Director Scott Novak & Singles Winner Lindsay Burdette | Singles Finalist Marek Czerwinski |
| Singles Finalist Reka Zsilinszka | 3rd Place Winner Eleanor Peters |
| 5th & 6th Place Winners Kevin Fleck & Justin Kronauge | 4th Place Winner Melissa Mang |
| 3rd Place Doubles Winners Alina Sullivan & Julie Blackmore | 4th Place Doubles Winners Colleen Rielley & Christian Tara |
Boys' 18
SINGLES
Finals
Clint Bowles defeated Marek Czerwinski (1), 6-3,6-4
Consolation Finals
Kevin Fleck defeated Justin Kronauge, 6-3,0-6,6-4
Girls' 18
SINGLES
Finals
Lindsay Burdette (3) defeated Reka Zsilinszka, 6-0,6-3
Third Place Playoff
Eleanor Peters (6) defeated Melissa Mang (24), 6-1,6-4
Consolation Finals
Colleen Rielley defeated Suzanne Matsenouer, 6-3,6-4
DOUBLES
Third Place Playoff
Julie Blackmore/Alina Sullivan (9-16) defeated Colleen Rielley/Christian Tara (4), 6-4,6-4