Monday, March 21, 2005

An early morning flight and a long drive through three states made it a rough day for me, but that was nothing compared to the day Marek Czerwinski had.
I arrived at the USTA National Spring Championships just in time to see the last two quarterfinals finish and it was worth the ride. No. 3 seeded Lindsay Burdette fought off a challenge from Ashley Weinhold, the unseeded Texan who had previously eliminated No. 17 Laura Reichert. Though she needed a break for medical treatment, Ashley kept up the pressure in that third set pushing Lindsay to a 6-1,3-6,7-5 finish.
It was just two courts away that the boy's top-seeded Marek Czerwinski was facing a fight of his own. No. 18 Blake Strode was not going down easy and came back after every ad out and match point down. It was a long wait before No. 1 player finally prevailed at 6-1,3-6,6-4. For Marek that long match was just part of a day's work. The unseeded doubles team of Cory Parr and Carlos Salmon, who upset No. 9 Kevin Fleck/Paul Koenke in the first round and No. 5 George Entis/Kevin Kaiser in the round of 16, weren't quite ready to give it up today. The first set was an exciting tiebreaker which the unseeded duo pulled out -- mostly on a handful of aces between Cory and Carlos. The second set was nearly as close, but it went to Marek and partner Maciek Sykut. Then Marek finally earned his day's rest with a 6-3 win in the final.
Tomorrow I'll be at the Mobile Tennis Center bright and early as consolations move into the quarterfinals and the main draw goes to the semis. In the girls 18s, Eleanor Peters (6) will go against Lindsay Burdette (3) as Reka Zsilinszka faces Melissa Mang (24). For the boys it will be doubles partners Marek (1) and Maciek (3) on opposite sides of the net at the same time Wesley Miller (14) meets Clint Bowles. I'm sure there'll be plenty of excitement long before the afternoon doubles.
Until Tomorrow,
Marcia Frost
Boys' 18
SINGLES
Quarterfinals
Marek Czerwinski/Birmingham, MI (1) defeated Blake Strode/Bridgeton, MO (18), 6-1,3-6,6-4
Maciek Sykut/Marathon, FL (3) defeated Brett Helgeson/Overland Park, KS, 6-3,6-4
Wesley Miller/Anaheim, CA (14) defeated Max Taylor/Fresno, CA (31), 3-6,6-1,7-5
Clint Bowles/Tampa, FL defeated Justin Kronauge/Dayton, OH (2), 6-4,7-5
DOUBLES
Marek Czerwinski/Maciek Sykut (1) defeated Cory Parr/Carlos Salmon, 6-7(5),7-5,6-3
Blake Boswell/Trey Taylor (4) defeated TJ Bellama/Boris Fetbroyt, 6-4,6-4
Santiago Montoya/Adam Slagter (3) defeated Tristan Biesecker/Spencer Mendoza, 6-3,6-2
Bobby Deye/Paul Rose (5) defeated A.J. Nouri/Jon Wiegand, 7-6(7),7-6(8)
Girls' 18
SINGLES
Quarterfinals
Eleanor Peters/Washington, DC (6) defeated Austin Smith/Hilton Head, SC (13), 6-4,6-4
Lindsay Burdette/Jackson, GA (3) defeated Ashley Weinhold/Autin, TX, 6-1,3-6,7-5
Reka Zsilinszka/Fayetteville, NC defeated Sophie Grabinski/Carmel, IN, 3-6,6-2,6-2
Melissa Mang/Metairie, LA (24) defeated Kristen McVitty/Woodkland Hills, CA (2), 7-5,6-1
DOUBLES
Quarterfinals
Lindsay Burdette/Melissa Saiontz (1) defeated Sophie H. Grabinski/Katie Potts (5-8), 6-2,6-1
Julie Blackmore/Alina Sullivan (9-16) defeated Anamika Bhargava/Jamie L. Hampton (5-8), 1-6,6-3,6-4
Colleen Rielley/Christian E. Tara (4) over Amanda Granson/Brintney Larson, walkover/ill
Eleanor Peters/Laura Reichert (5-8) defeated Cosmina Ciobanu/Kristen McVitty (9-16), 4-6,6-2,6-3
Click On A Photo To Enlarge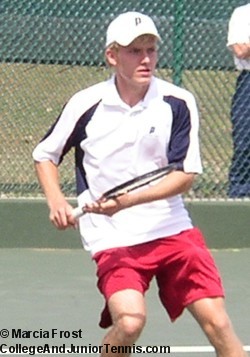 Marek Czerwinski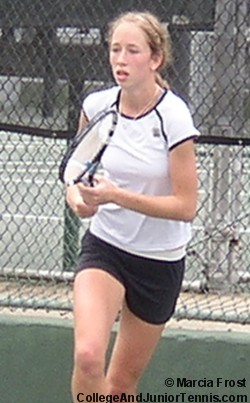 Katie Potts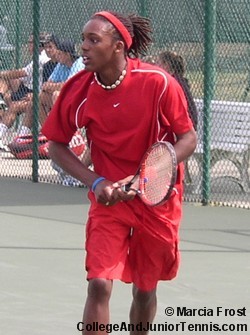 Blake Strode
Ashley Weinhold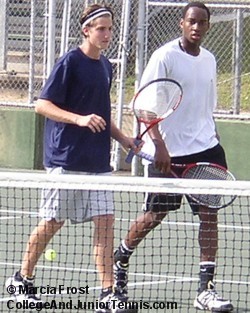 Cory Parr &
Carlos Salmon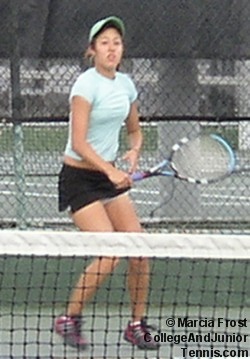 Stephanie Davidson
Create an Amazon Wedding Registry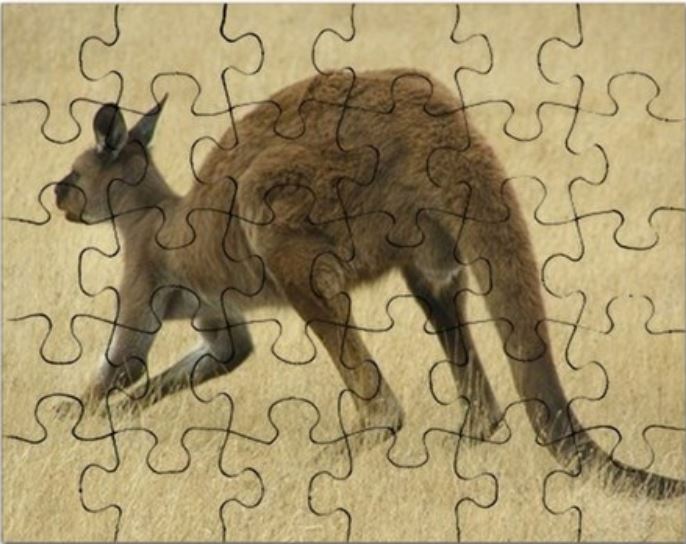 Return to:
College And Junior
Tennis Homepage