Tuesday, March 22, 2005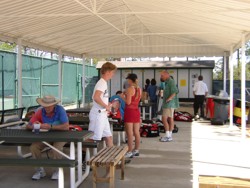 Sometimes the matches that make the most impression on you are not the finals played on the showcase court, but the consolation quarterfinals played in the back on Court 39. Today was the day for such a match.
Tuesday morning began with rain and tornado warnings throughout the Mobile area. Play was postponed until afternoon and when it began it was all at once. Main Draw semis, consolation matches and even a doubles playoff were spread out among the 50 courts at the Mobile Tennis Center. The winners began to approach the tournament desk as the day went on, but no one appeared from Court 39.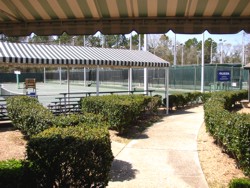 The match between Kristen McVitty and Melissa Saiontz continued long after their neighbors finished. The points were long, the games were endless and I could only find one word to describe it, "Wow!" It was a marathon that lasted more than four hours through spectacular shots and arguments over calls. When it was finally over and by just a hair Kristen was the 7-6(2),5-7,7-5 winner, it didn't seem right that only one player should emerge victorious. That turned out to be the case since, even though she had finally earned her place, Kristen was too cramped and exhausted to play an additional match and was forced to default in the next round.
It may not have been meant to be in the singles, but Melissa garnered the energy for the doubles gold ball. With partner Lindsay Burdette, Melissa captured the doubles title with a 6-4,3-6,6-2 win over Eleanor Peters and Laura Reichert. For Eleanor it was the second defeat of the day as she also lost her place in tomorrow's final to Lindsay, 6-3,7-6(4). She will play unseeded Reka Zsilinszka, who continued her streak by beating Melissa Mang, 7-5,6-2.
The boys draws were not without their own excitement today as doubles partners Marek Czerwinski and Maciek Sykut had a close 6-3,7-6(6) semifinal with the edge to Marek. Their doubles final was even closer as the top-seeded duo fell to Santiago Montoya and Adam Slagter, 2-6,7-5,7-6(2). Marek will have another shot at first place tomorrow when he meets Clint Bowles, the unseeded phenom who created another upset today when he eliminated No. 14 Wesley Miller in straight sets.
It looks like weather will not be a factor tomorrow as the forecast is for warm and sunny skies for the final day of the USTA National Spring Championships. I'll be there waiting for the chance to see another "Wow" match.
Until Tomorrow,
Marcia Frost
Boys Doubles Winners Santiago Montoya & Adam Slagter
and Finalists Maciek Sykut & Marek Czerwinski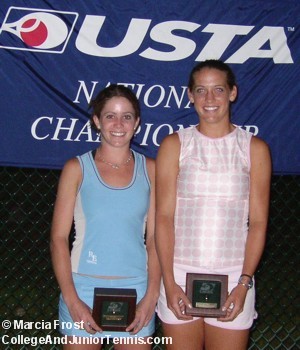 Girls Doubles Winners Melissa Saiontz & Lindsay Burdette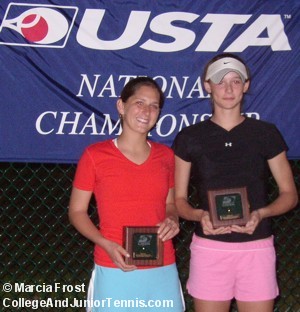 Girls Doubles Finalists Laura Reichert & Eleanor Peters
Boys' 18
SINGLES
Third Place Playoff
Maciek Sykut (3) over Wesley Miller (14), walkover/injured
Semifinals
Marek Czerwinski (1) defeated Maciek Sykut (3), 6-3,7-6(6)
Clint Bowles defeated Wesley Miller (14), 6-3,6-1
DOUBLES
Finals
Santiago Montoya/Adam Slagter (3) defeated Marek Czerwinski/Maciek Sykut (1), 2-6,7-5,7-6(2)
Third Place Playoff
Blake Boswell/Trey Taylor (4) defeated Bobby Deye/Patrick Rose, 6-1,6-2
Semifinals
Marek Czerwinski/Maciek Sykut (1) defeated Blake Boswell/Trey Taylor (4), 7-6(5),6-2
Santiago Montoya/Adam Slagter (3) defeated Bobby Deye/Paul Rose (5), 6-3,6-4
Girls' 18
SINGLES
Semifinals
Lindsay Burdette (3) defeated Eleanor Peters (6), 6-3,7-6(4)
Reka Zsilinszka defeated Melissa Mang (24), 7-5,6-2
DOUBLES
Finals
Lindsay Burdette/Melissa Saiontz (1) defeated Eleanor Peters/Laura Reichert (5-8), 6-4,3-6,6-2
Semifinals
Lindsay Burdette/Melissa Saiontz (1) defeated Julie Blackmore/Alina Sullivan (9-16), 6-3,6-1
Eleanor Peters/Laura Reichert (5-8) defeated Colleen Rielley/Christian Tara (4), 6-3,6-1
Click On A Photo To Enlarge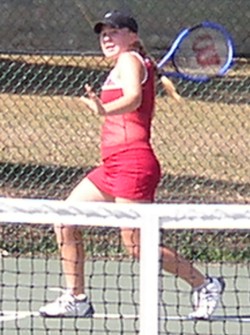 Kristen McVitty
3rd Place Doubles
Blake Boswell & Trey Taylor
4th Place Doubles
Bobby Deye & Patrick Rose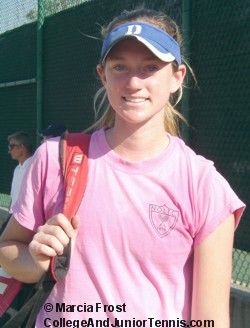 Melissa Mang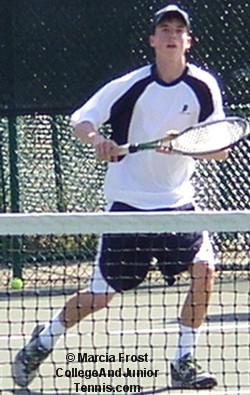 Reid Carlton
Colleen Rielly
Brett Helgeson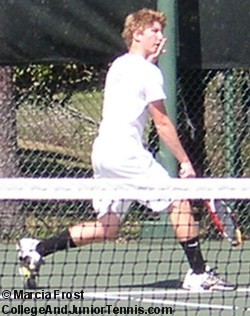 Max Taylor
Austin Smith
George Navas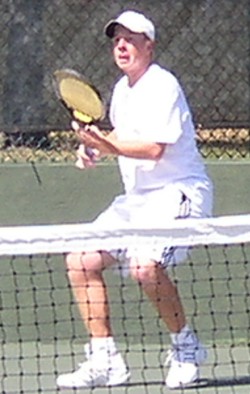 Wesley Miller
Chelsea Preeg
Clint Bowles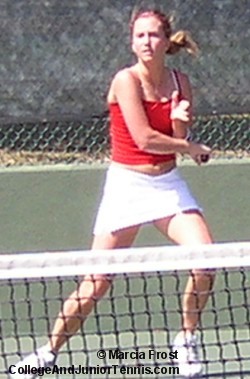 Sophie Grabinski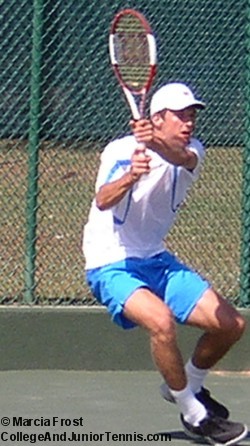 Maciek Sykut
---
---
---
---
See the Latest
at NIKE
---
New...
CollegeAndJuniorTennis'
MegaFitness Store
---
---
---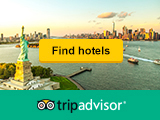 ---

---
Return to:
College And Junior
Tennis Homepage