May 2006
Q:I coach my two daughters, the oldest is a high school senior and the other is in the 7th grade. Neither of them wants to be in a typical weight room. That's characteristic of many of the players on our girl's tennis team, too. The high school in which I teach has a newly renovated campus, including two gyms, but the thought of going in with your basic football-baseball-basketball "jock" repulses them. We also have a new training room with the newer medicine balls and large bouncy balls, and they don't mind those so much. But the bottom line is our players feel it's better to be on a court, ready to hit a ball within minutes.

Kirby Onaga, Men's Head Tennis Coach
El Segundo High School, California
A:""It's pretty amazing what we can accomplish in an hour. I mean, you can have a really long recovery, but it's not very often we do that in a workout. In tennis we have twenty-five seconds between points, so during a workout it's very important to keep to that. Only if you go forty-five minutes, you have to go 100%. 'Short and sweet', like you say, Pat." Justine Henin-Hardenne


In tennis, I am convinced that quality is far more important than quantity in strength training and conditioning. Many players try to train too long and lose their concentration. That's when they begin to make errors that can quickly turn into bad habits. This loss of concentration and boredom is particularly true with younger players.
And it's very true that many of the top players are not the ones who train the longest. Agassi, Sampras, Hingis now, and even Justine - players of that quality - don't workout for hours and hours. But when they go on the court, they're all business; every ball they hit has a purpose. And they approach their off-court training with the same intensity and purpose.
You mention medicine balls. I especially like using medicine balls to train younger female players because it's easier for them to accept that they won't become too muscular (like they perceive they will with weight lifting). And medicine ball exercises and drills give them a more functional strength that allows them to swing the racket better while getting in great shape.
Young women need to do more shoulder strength exercises, whether that's with the medicine ball or rubber tubing. You see many young girls having shoulder injuries because of a lack of proper shoulder strength. You want them to be able to hit the ball harder AND have their shoulders withstand the return from their opponent and the pounding of the ball on the racquet. Strengthening the shoulders helps them absorb that kind of continuous shock.
So with tubing and medicine balls, players and coaches get the results they want while making it easier for the players to understand that they won't bulk up and get too muscular, thereby overcoming that innate fear of bulking up that young women have with weight lifting.
And even when there is no fear of lifting weights, we don't want to have players spend too much time in the weight room and not on the court. Generally speaking, this is probably more of a red flag for the boys then the girls. After all, the purpose of fitness is to make better tennis players. People should be impressed with want you do on the court with your racquet, not what you do in the weight room, or how you look at the pool. So the goal is to focus and get the most out of an exercise program in the shortest amount of time so that players have more time to train on the court.
Pat Etcheberry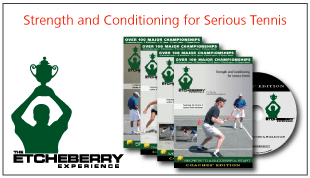 Pat Etcheberry is one of the foremost sports trainers in the world, and is uniquely qualified to address the kinds of issues important to CollegeAndJuniorTennis.com. After spending more than two decades as the sports trainer at the University of Kentucky for all men's and women's teams, Pat left academia to train a young Andre Agassi for his legendary career. Since that time, Pat has trained more than two dozen professionals who have won more than 100 Grand Slam Championships and Olympic Medals. Pat operates the Etcheberry Sports Performance Center in Wesley Chapel, Florida, where he trains top tennis pros and junior players from around the world. For the first time, Pat reveals many of his training secrets in a 4-DVD series Strength & Conditioning for Serious Tennis that is available through his website at EtcheberryExperience.com.

If you are a high school or college coach and would like to ask Pat a question, send your comment and question to Pat@CollegeAndJuniorTennis.com.