2002 ITA NATIONAL PLAYERS OF THE YEAR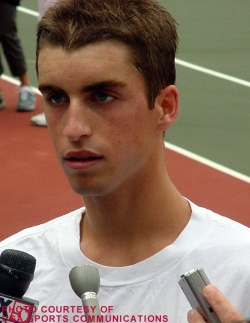 This year's ITA National Player of the Year awards have been given to the two NCAA singles champions -- Matias Boeker and Bea Bielik. Both players are also leading the final singles rankings for the 2001-02 season. Matias is being given this honor for the second year in a row. He is the first man to be a repeat winner. Gretchen Rush (Trinity), Lisa Raymond (Florida) and Laura Granville (Stanford) all won the ITA National Player Award two years in a row.
Matias Boeker, a junior at the University of Georgia, won the NCAA singles title for the second time this May. Last year, in addition to the singles, he won the doubles and helped Georgia to a team crown. Originally from Buenos Aires, Argentina, Matias also earned All-American honors for the third year. All of this was despite the fact that he took off most of the Fall season to play the professional circuit (while retaining his amateur status).
Wake Forest's Bea Bielik, a junior from Valley Stream on Long Island's New York, set an NCAA Championship record for fewest games lost (21) on her way to winning the singles title. She was also this season's winner of the Omni Hotels National Indoor trophy. Bea remained number one in the rankings for most of the year in singles, as well as earning top five for doubles with partner Janet Bergman.
In addition to the singles awards, two teams were awarded as ITA National Doubles Teams of the Year. Andrew Colombo and Marc Kovacs won the first NCAA title in Auburn history when they took the doubles as an unseedeed team. It was a long wait for Stanford's Lauren Kalvaria and Gabriela Lastra who, though consistently ranked in the top five, won the NCAA title in their senior year. They ended a superb season 34-3.
The National Players of the Year will be honored at the Tennis Week/ITA All-Star Award Ceremonies on August 23rd in New York. These awards are given each year to the individuals who have had the most outstanding year in both individual and team competition, as determined by the ITA