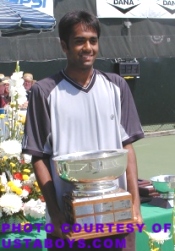 Q: What made you even look at Illinois? You were a hot prospect last year. All the coaches wanted you.
A: "What made me look at it the most was looking at all the guys that Craig brought in. I knew what they were like when he brought them in. I knew what they were like when they left. The amount of improvement that every one of them had made was really substantial compared to some of the other schools."
"I didn't just want to be a college player, I wanted to be a professional. Even though I was one of the top players, I needed to get better to be a professional. We talked about that when I went to school, what my plan was, and Craig was happy to have me around to work on my game. To be honest, the (NCAA) titles were just a bonus. I got better and that's what I was there for. It was a great bonus to get the notoriety, but that was never the goal of our team."
Q: What do you consider your best win?
A: "My most memorable tennis moment would have to be winning the NCAAs as a team."
Q: As a team, not the doubles win?
A: "The doubles was an after thought. And if you ask Amer he will say the same thing (about winning the singles title). Winning the team championship for us was so huge. All of the work and it wasn't just the six of us. The coaches, the boosters, the parents -- everyone put into it. It was a team effort. We just happened to be the ones on the court."
Q: At what age did you start playing tennnis?
A: "I was pretty young. Maybe four or five. It was just my thing. My parents don't play."
Q: Are there any other sports that you play?
A: "I like playing golf now, but I'm not really very good at that."
Q: Is there a tournament that you haven't played yet that you would like to?
A: "There's a lot of them. If I would get to play on Centre Court at Wimbledon, that would be my dream."
* * *
*Rajeev Ram just announced that he will not be returning to Illinois this fall, however, he is currently retaining his amateur status while he plays the pro circuit. Illinois teammates Amer Delic and Brian Wilson have decided to do the same.