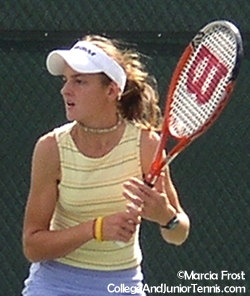 Q: Do you play any other sports?
A: "No, I don't play any sports, just tennis. I do like to ski and run, though."
Q: What else do you do in your spare time?
A: "I'm a complete nerd. I love to read. I love to study. I also play piano -- I've been playing for six years -- and I like to sing."
Q: I've never heard that answer before.
A: "I'm a good singer. Really."
Q: The first singing junior tennis player. That could be interesting.
A: "Yes. I can sing the anthem at the U.S. Open."
Q: Maybe. Do you know Liz Kobak? She played the violin at the U.S. Open and then she played the Junior Championships.
A: "Yes, I know. That could be so cool!!"
Q: Where are you going from here?
A: "I definitely want to play college tennis for sure."
Q: I haven't asked that question yet. What tournament are you going to next?
A: "The ITF in Palm Spring. The one they changed, The Easter Bowl. That's my next one."
Q: Now (laughing), are you thinking about going to college?
A: "Definitely. I have to finish high school, then I have to go to college and we'll see from there. College is my first aspiration."
Q: Where do you train?
A: "I drive an hour and a half Mondays, Wednesdays and Fridays. And then sometimes I hit in Pinehurst so basically we have to travel every single day and hour or an hour and a half."
Q: It seems to be working.

* * *