Ryler and I sat down at the ITA Indoors the day after his surprising loss to wildcard Mislav Hizak of Embry-Riddle.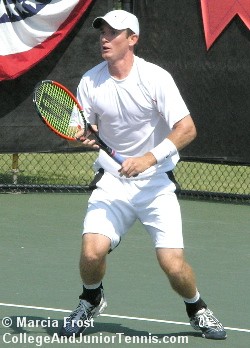 Q: Okay, we won't spend too much time on it, but I have to ask what happened yesterday?
A: "It was a tough first round for me. My timing was a little off. I just did not feel great out there. I did not play very well, but I mean I have to give him credit as well. He played well so he did not give me that much to work with. I would have liked one match just to get used to the courts and feel it ouot. He really did not give me a chance to do that."
Q: Had you ever seen him play before?
A: "No, I have not. He's NAIA* so that makes it kind of tough."
Q: What are your goals for this season?
A: "I would say now that the fall is over I think we have to concentrate on the team stuff. Obviously that is more important. I think that is what we are all looking towards, not so much the individual. So I have to bounce back from this and still lead my team this year."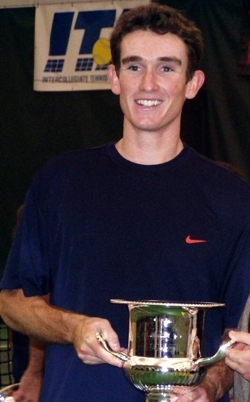 Q: What made you pick Illinois?
A: "I would say just offering me the best of academics and tennis combined and Craig (Tiley, the Head Coach until June 2005) was a big part of that as well. He had the same philosophy of coaching that I grew up with, so I wanted to continue that and my coach knows him really well so there was a connection there. I liked the school a lot when I went on a visit and I was really impressed with the tennis."
Q: Do you think Craig's leaving has affected you at all?
A: "In general, I would say no. Obviously, it is weird with him not being here because we are so used to having him around and stuff. I think we miss him obvously, but Brad (Dancer) has done a great job so it is tough to dwell on Craig leaving when you have another Head Coach that steps up like he has. I do not think it has really affected us too much."
Q: What are you majoring in?
A: "I am a Psychology major and I am Pre-Med."
more