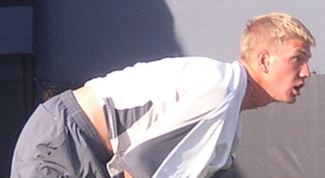 Q: Are you considering college?
A: "Yes, greatly. I'm not exactly sure what I'm going to be going to be doing, but I'll have to make that decision. I'm just getting into my junior year (of high school)."

Q: What has been your best win?
A: "Way back to the Boys 14s. I won my first national tournament at the Columbus Indoors. That was a happy time."

Q: What tournament did you have the most fun at?
A: "I've always enjoyed Costa Rica. It's a great site and there are great people there. And the US Open, of course. It's great. You get to be around all the pros and get the feeling of the whole Grand Slam."

Q: Is there a tournament that you haven't played yet that you would like to play?
A: "I didn't go the the French (Open). I'd like to go there next year."

Q: Where do you train?
A: "Kalamazoo, Michigan. The college where the Nationals are held. On clay when it's not snowing."

Q: What do you do in your spare time?
A: "I like to be with my friends, just enjoy my time at home."

Q: Are there any other sports that you play?
A: "I played pretty much every sport when I was younger, but nothing too serious."

Q: At what age did you start playing tennis?
A: "When I was five or six years old, but I didn't take it seriously until I was eleven or twelve."

* * *

Note: On February 1, 2004, Scott Oudsema became the first American boy to win the Australian Open doubles title two years in a row. He won his second title with Brendon Evans, a US Open Junior Boys doubles finalist.