TALKING WITH... SHADISHA ROBINSON
July, 2002 continued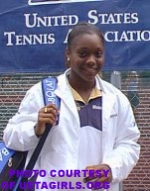 Q: Are you only concentrating on professional tournaments this Summer?
A: "Well, no. I'm playing the Junior US Open and I'm playing the (Super National) Hardcourts. You get the wildcard into the Open (main draw) from there."
Q: What's it like dividing your time between your home here in New York and Florida where you train?
A: "It's hard. It gets frustrating some times. In Florida. it's mostly work. I don't really do stuff in Florida -- it's all tennis.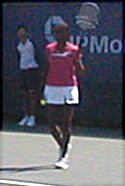 Q: Where did you train in New York?
A: "I trained all over, mostly at the (USTA) National Tennis Center. My dad is my coach. I didn't have any other coach here."
Q: Are you thinking about college yet?
A: "Yes. Right now I am thinking about Georgia Tech. The Coach, Bryan Shelton, is a really good friend and a good coach. I'm also looking at the University of Florida."
---