TALKING WITH... SHINANN FEATHERSTON
August, 2006 continued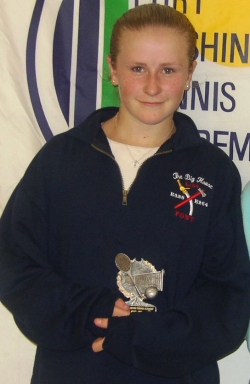 Q: Are you going to continue to play high school tennis?
A: "Yes. I'm planning to play all four years (at St. Francis Prep)."
Q: What has been your best win?
A: "When I played Keri Wong at Clays. I beat her 7-6 in the third. I had just came off a loss to Laurianne Henry and I had a match point against her. That gave me confidence to go out every match. I think that's why I had so much success last summer."
Q: What tournament did you have the most fun at?*
A: "Virginia Beach (Girls' 16 Claycourts) was a lot of fun because I stayed with a couple of girls in a suite. We did a lot of things. It was on the beach."
Q: At what age did you start playing?
A: "I started taking lessons about three, but I was hitting with my dad at around two."
Q: Who is your coach?
A: "I train at the National Tennis Center with Marvin Dent."
Q: Are you thinking about college?
A: "I want to go to college and play where the coach and the other players understand me because I'm going to be with them a lot."

2006 Winning USTA National Girls' 18 Team - (l to r) Stefana Petrelli, Noelle Hickey, Stacey Lee, Lindsay Clark, Shinann Featherston, Kathryn Atwell, Jacqueline Wu and Coach Marian
*question was asked before the team championship.


* * *
---