SOUTHERN CALIFORNIA
INTERCOLLEGIATE CHAMPIONSHIPS
Los Angeles Tennis Club - November 7-9, 2003
I had the pleasure of attending the finals for the Southern California Intercollegiates this year. Though the tournament showcased the talent of players from UCLA, Southern California, Kentucky and UCSB, it was UCLA who dominated the event. The all-UCLA finals were held on Sunday, November 9th.
Tobias Clemens brought home the singles title for the second year in a row with a 6-3,6-2 win over teammate Chris Lam. The two then paired up to take the doubles over fellow Bruins Chris Surapol and Aaron Yovan, 8-0.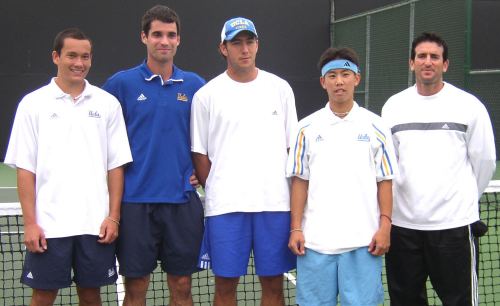 (l to r) Doubles Winner & Singles Finalist Chris Lam; Singles & Doubles Winner Tobias Clemens; Doubles Finalists Aaron Yovan & Chris Surapol; and UCLA Assistant Coach Jason Sher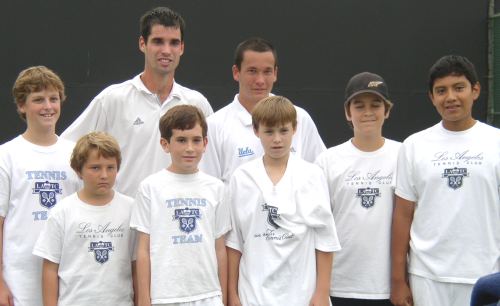 Tobias Clemens & Chris Lam posed with the ball kids
by Marcia Frost
---
---

---
---
---
TENNIS CELEBS
Click For Free Trial
---
---
Return to:
College And Junior
Tennis Homepage