Thursday, April 17th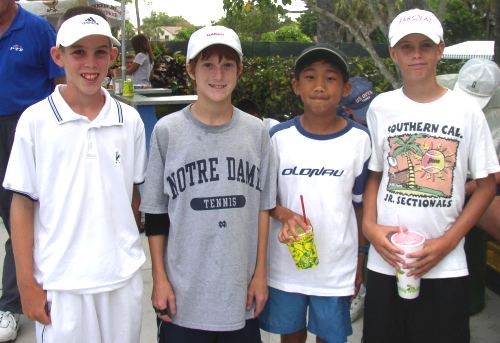 Hanging out before their matches were Bradley Klahn, Parker Rhodes, Michael Lin & Alex Johnson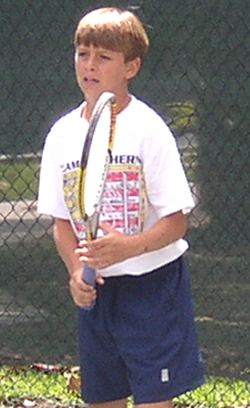 The temperature and humidity rose today and with it went the hopes of top seeds -- including the No. 1 boy and the No. 2 girl.
Ryan Harrison -- pictured right -- eliminated No. 1 Rashaad Williams in a crowd-gathering display of incredible points. The final score of 7-5,6-3 does nothing to explain the long points, close shots and winners that were hit by each of these boys. Meanwhile, a few courts down, the second-seeded Jarmere Jenkins was having a difficult time holding onto his place in the draw. Blake Davis challenged Jarmere, pulling him into a third set. The higher seed prevailed, though, and earned his spot in the semis.
In the other boys quarterfinals, No. 12 Rhyne Williams was a winner over No. 7 Devon McCarthy and Alexander Domijan, the third seed, got past No. 6 Denis Bogatov.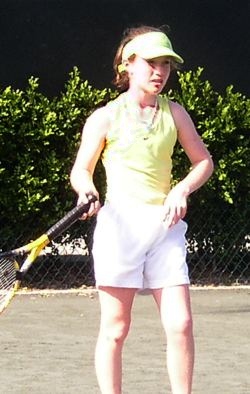 Things were also difficult at the girls event today. Even though top-seeded C.C. Sardinha moved on easily past Kathryn Talbert and Alexandra Bush -- pictured left -- eliminated Lindsey Taylor, two players on the bottom of the draw were not so lucky. Jacqueline Wu, the fifth seed, could not make it passed Monica Chow and No. 8 Amy Simidian was just 6-4,6-4 better that the second-seeded Shinnan Featherston -- pictured below.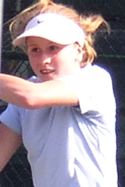 Tomorrow will be full of many matches beyond the semis in the main draw. Playoffs abound in this compass format and there is still doubles matches left. The pressure will keep up with the heat through the Boca Country Club and the Delray Beach Tennis Center.
Marcia Frost
Return To 2003 Super Nationals Index
Save up to 30% on your hotel on your next upcoming trip!!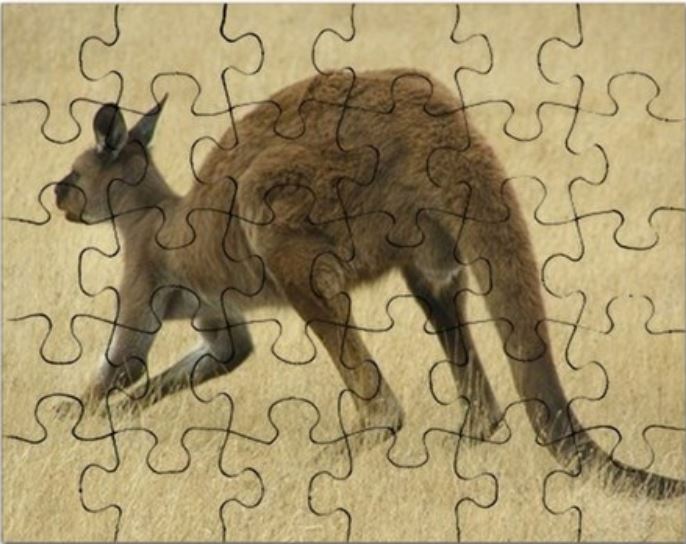 Return to:
College And Junior
Tennis Homepage