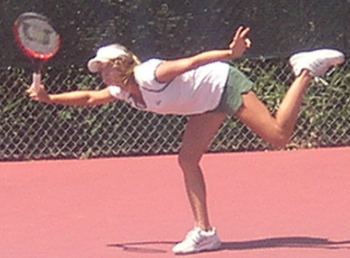 Monica Wiesener
Thursday, August 7th
Whenever there is a plane and a car rental involved, it's hard to get anywhere on time. And so my arrival at the Almaden Valley Tennis Club for the Girls' 18 Super National Hardcourts was later than expected, but it was still in time to see some excitement.
In dramatic contrast to the Girls' 16s event, the 18s are full of crowds and activity in front of all courts. There is also a ban on the courts of black-soled shoes (which I, of course, was wearing). Though the shoe problem limited my picture taking, it didn't stop me from watching some great tennis.
One match that I did come in time for was a battle between Natalie Frazier and Lauren Albanese for a place in the quarterfinals of the feed-in. Natalie, who was seeded twelfth in the main draw, had to earn her place with a hard fought 6-2,2-6,7-5 victory. A few courts down the tournament's No. 4 seed, Shadisha Robinson, overcame a three-set challenge from Monica Wiesener, 6-2,2-6,6-1.
I also managed to catch some great doubles. Sisters and future Notre Dame freshman Christian and Catrina Thompson put on a beautiful display of teamwork as they eliminated Celia Durkin and Sylvia Kosakowski, 6-3,6-1. Also showing the experience of having played together for years was Anne Yelsey and Riza Zalameda as they won their match against Preethi Mukundan and Monica Wiesener.
Tomorrow is a new day and with an early start and white soled shoes, I plan to catch lots of action.
Marcia Frost