Despite a week filled with rain and indoor tennis, the final day of the USTA Illinois ITF ended with sunshine for some of the surprise players in the winners' circle.
It was hard to convince the players that it's been a dry summer in Champaign-Urbana as rain was a near daily occurrence throughout the tournament, but it didn't turn out to be a problem for two players who had their game on. The sunshine came out with temperatures slowly creeping to 80 at the brand new Khan Outdoor Complex at Atkins Tennis Center. The biggest winners were 16-year old Daniel McCall of California, who swept the boys events, and Caitlyn Williams, a Tennessee native who is just about to turn 16, and who just missed two first place trophies.
Fourth-seeded Daniel McCall did not lose a set on his way to the final (though he did have a second round tiebreaker with Dominik Matuszewsky that was pushed to 16/14). His final opponent was top-seeded Dane Webb, who faced a challenge in the semifinals against 15-year old Mitchell Krueger. The seventh-seeded Mitchell had fought his way through two previous matches that went the distance and, despite a great start, finally ran out of steam. The final was a bit more competitive than the 6-1,6-2 score for Daniel McCall indicated, but there was no doubt Daniel was in charge, even sealing it with an ace.
Ninth-seeded Caitlyn Williams (pictured, right) had a surprise waiting for her in the finals. Blair Shankle (pictured, far right), a 15-year old from Texas, had battled her way through some tough matches, including a three-setter over Katie Goepel (who had eliminated the No. 1 seed, Luksika Kumkhum of Thailand). Blair didn't let up in her last match. I missed the first 6-4 set, but the second was tight with an extremely long game at 4-4. Though that one stayed on serve for Blair, Caitlyn eventually broke at 6-5 and was able to serve it out.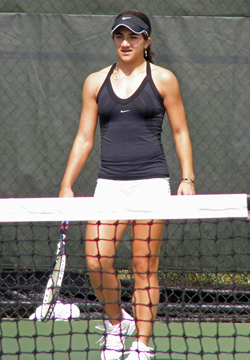 After singles, Caitlyn Williams teamed with Julia Elbaba (pictured, right) for doubles. Julia was yet another surprise in the tournament, having come in unseeded to take out No. 2 Kelsey Laurente and No. 12 Leyla Erkan. The 15-year old from New York was finally stopped by her doubles partner in the semis, in a close 6-3,5-7,7-5 match, but it didn't stop them from keeping the teamwork going to the dubs finals. Joining them for that match was another unseeded team. Alexus Coats & Luksika Kumkhum, who pulled out the win in a second set tiebreaker.
The boys doubles final was played late Friday afternoon and I didn't get to see it. That contest was won by third-seeded Daniel McCall & Eric Johnson over top-seeded Mitchell Krueger & Dane Webb, 6-1,6-4.
Until next year,
Marcia Frost

Monthly Guides to
College Tennis Planning
Available in Kindle, Print & EBook
for H.S. Seniors
and H.S. Juniors
Create an Amazon Wedding Registry
Return to:
College And Junior Tennis