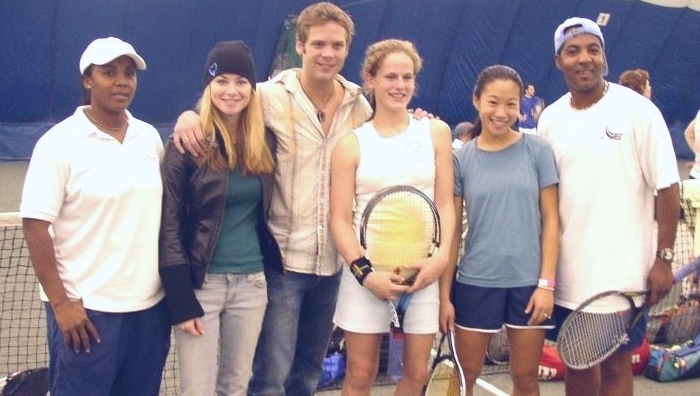 (l to r) Maureen Rankine, Jessica Morris, Bruce Michael Hall, Stefana Petrelli, Francine Whu, Phil Rankine

Despite last minute cancellations from many of the expected professional players and celebrities, the 11th Annual Tennis Against Breast Cancer Pro-Am proved to be one of the most successful yet. Over 60 players and a dozen spectators paid to participate in the festivities to benefit the Tennis Against Breast Cancer (TABC) Research Fund, which supports organizations committed to finding a cure.
The event began with all the players competing in three fun sets of round robin mixed doubles. Exhibitions were then held to showcase the talents of pros Medhi Karbid, Olivier Morale, Phil Rankine and Matt Snyder. Top Eastern juniors Francine Whu and Stefana Petrelli joined in with a crowd cheering doubles match with Phil and Matt. (It was deja vu for Francine, who had won the National Open here last year.) Then the men joined together for more exciting doubles action.
Guests mingled with the pros, as well as One Life To Live stars Bruce Michael Hall & Jessica Morris and actor Jack Mulcahy (Sex and the City, The Brothers McMillan). In addition to the admission for the event, participants helped raise money for this worthy organization by purchasing raffle tickets and participating in a silent auction that included items from Andy Roddick, Michael Chang, and Martina Navratilova, among those who gave donations to TABC.
The non-profit Tennis Against Breast Cancer holds events throughout the year to fight this disease with the help of the tennis community. Other players who have helped include Patrick McEnroe, Luke Jensen, Yannick Noah and Leslie Allen. The next TABC fundraiser is a Jamaica Tennis Getaway in December that includes tennis camps, lessons round robins and unlimited court time. For more information on this trip, visit http://www.tennisabc.org/events-jamaica.htm or contact TABC founder Maureen Rankine at rankus@aol.com