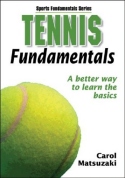 Book Review:
Tennis Fundamentals by Carol Matsuzaki
Review by Francine Whu
Tennis Fundamentals is a helpful book for beginner tennis players. Many of the directions are very simple. Although intermediate and advance tennis players would not find this book to be of very much help, people just starting the sport may find it useful.
Both singles and doubles are covered in Tennis Fundamentals. The book goes through every stroke in tennis, telling you how and when to hit it. It teaches you grips, positioning of the feet and stroke mechanics. It also informs you of numerous drills and games you can use to improve your skills. I do believe, however, that many of those things are also based on opinion and every coach can differ.
If you're looking for a book to get you started in tennis, Tennis Fundamentals is a quick and easy read.
###
Tennis Fundamentals is published by Human Kinetics and is available at Amazon for $10.47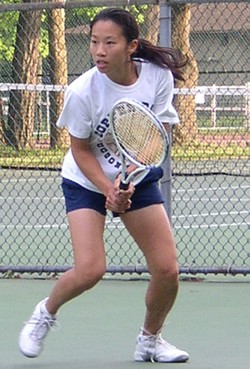 Our reviewer, Francine Whu (pictured left), is currently No. 1 in the Eastern Girls 16s and ranked in the Top 70 nationally.

See More Books at
COLLEGE AND JUNIOR TENNIS' TENNIS BOOKSTORE