Cassandra Herzberg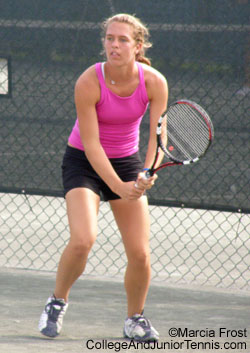 Jacqueline Kassler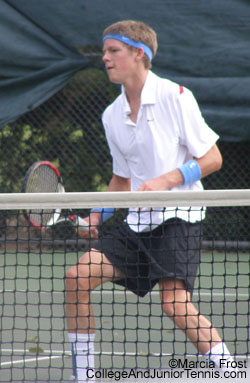 Michael Gillard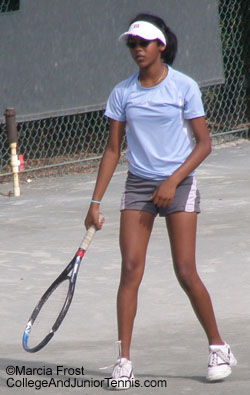 Jana Motie
click on a photo to enlarge
Saturday, January 19th-Day Two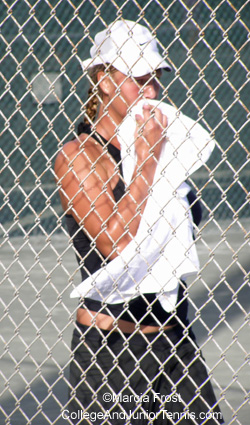 I'm down in sunny (and humid) Florida, tournament hopping and today's stop was at the Tennis Plaza Cup in Coral Gables and Miami. I got to watch some good matches, as well as catch up with Colette Lewis of Zoo Tennis, who is also covering the event.
I started the day at the Biltmore Tennis Club. It's home to the Junior Orange Bowl, an event I have yet to make it to. I was only there for a bit and caught some of No. 2 seeded Jeffrey Morris commanding the match against Michael Gillard before his quick 6-2,6-2 win. From there, Colette and I walked the seven blocks to Salvadore Park, a big facility with great viewing of the Girls' 18s on Claycourts. I watched the second-seeded Cassandra Herzberg shutout Jana Motie (she would later have a similar match over Brittany Borsanyi). Also playing at that time were Jacqueline Kasler and Robyn Beddow. The No. 3 Jacqueline needed to work a bit before taking the match, 6-2,6-0.
There's no doubt that the match of the day was Mallory Burdette-Alina Jerjomina and I'm glad I got to see it. Mallory is one of those very talented players who comes in and wins tournaments unseeded (like she did in an ITF in November) because she's been out of the circuit for awhile and doesn't have a high ranking. Today's match was quite a battle as the two fought with and without racquets (the ref was there for most of the match). After the first set Mallory took with an easy 6-1, it was an interesting combination of winners and errors, but regardless of how it was played, it was definitely suspenseful. There were long baseline ralleys with Alina (above, left) the master at the down-the-line winners and Mallory taking it when she displayed her net skills. Nearly three hours later it was the youngest Burdette who took it, 6-1,4-6,6-4.
On the court next to Mallory and Aloina, there was another exciting match that I got to catch a few points of. Top-seeded Rachel Saiontz had quite a challenge from Bianca Sanon. She barely squeaked by 7-6,7-5 to earn her place in the quarters.
I will be back at the Tennis Plaza Cup on Monday to catch the finals. In the meantime, also take a look at my report from the USTA Pro Circuit Event in Boca Raton.
Until Monday,
Marcia Frost
---

Monthly Guides to
College Tennis Planning
Available in Kindle, Print & EBook
for H.S. Seniors
and H.S. Juniors
---
---
Return to:
College And Junior
Tennis Homepage