In Memory of... Thomas Pura
I was shocked and saddened to learn yesterday of the sudden death of Tom Pura. Tom was not only a friend of mine, he was a great friend of junior tennis.
I first met the Puras four years ago when nine year old TJ came to play the Port Washington Winter Classic. As he ran through the 10 and under draw, he drew crowds that marveled over his one-handed backhand and resemblance to Andre Agassi at that age. I was in awe of his talent, but no one beamed more at each match than his father. Tom Pura enjoyed the junior tennis journey that TJ was taking and he spent many hours talking about it. After listening to everyone's stories, he decided to make a movie about it.
50,000 Balls is a three year collaboration of many people, but Thomas Pura -- a retired partner from Goldman Sachs -- spent many hours himself pouring over the video, sending out version after version, and listening to every comment and suggestion. When Unstrung premiered at the Tribeca Film Festival, Tom brought me along with TJ, Sara and all those involved with the film to see it, discuss it, and talk about what he could do differently in his film. I was privileged to be among those who got copies of the rough cuts of 50,000 Balls all through the process.
The last time I saw Tom was at the NCAAs in Tulsa. He had come out -- just for the day -- to watch the UCLA Bruins in the semifinals. He had recently made his main residence in California and had supported the team in every way imaginable. At that event, he gave me the first sealed DvD of 50,000 Balls, with a picture of the boys on the front and the label of the Newport International Film Festival. I never found the time to sit down and watch the final cut. I did last night, though, and it is a fitting testament to Tom Pura and junior tennis.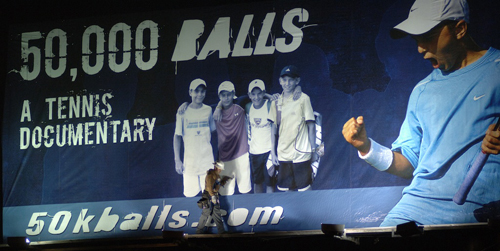 There was a private funeral for Thomas Pura yesterday. There will be a memorial in Manhattan later this month. The thoughts of myself and everyone here are with Sara, TJ, Jennifer and the rest of the family. In lieu of flowers, the family requests that donations be made to:

Harlem Junior Tennis and Education Program
140 West 143rd Street
New York, NY 10037 Marcia Frost
Return to:
College And Junior Tennis