TALKING WITH... TIMOTHY NEILLY
April, 2002 continued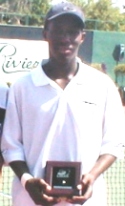 Q: Are you looking at playing any international events?
A: "Yes. I'm going to play a few ITFs and a few ETAs in Europe. I hope to do good in those."
Q: How did you feel yesterday when you defeated the No. 1 seed (Justin Montgomery) in the quarters?
Josh: "I felt I played a good match. He's a very good player, but yesterday I just played top and I came out with a 'W.' I'm happy about that."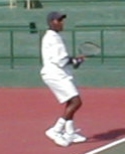 Q: What are your plans for the future? Do you want to play professional tennis?
A: "Yes. I want to play professional tennis and hopefully do well there. I would also like to go to college. Hopefully, I can do both."
Note: Timothy finished the Easter Bowl as a singles finalist and doubles quarterfinalist.
* * *
---