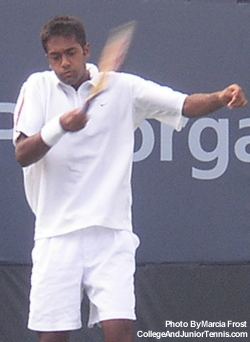 Rajeev Ram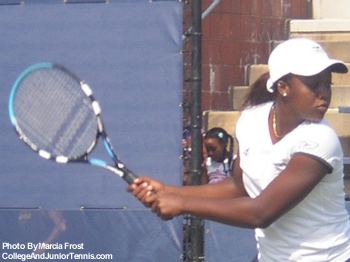 Shadisha Robinson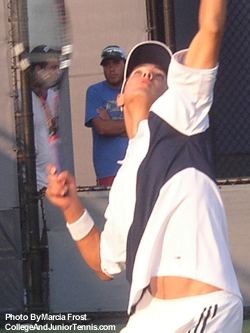 Jamil Al-Agba
At The Open With Marcia Frost...
Tuesday, August 19th-Qualifying Day One
Though it is still under massive construction, there is still no place like the USTA National Tennis Center during the US Open. The energy is everywhere and the emmotions run high as some of the best in the world play for their lives. This year does not look to be any different.
Rajeev Ram was definitely the one in control today in his match against Andres Dellatore. In a remarkable fifteen minutes, Rajeev took the first set, giving up no games and only four points. Though he faced a small challenge from the Argentinian in the second set, he still closed it in another thirty minutes, 6-3. Illinois Coach Craig Tilley and teammates Brian Wilson and Amer Delic were on hand to cheer him on. (Amer has a wildcard into the main draw singles and Brian is expected to play doubles with Rajeev.)
I had a little free time between amateur matches, so I caught up with one of my favorite "professional juniors," Ally Baker. Ally was looking better than ever as she used her killer serve and volley combination to earn an incredible win against Wimbledon semifinalist Mirjana Lucic, 5-7,6-1,6-4. This just may be the seventeen year old's break through year.
Shadisha Robinson appeared pumped after seeing friend Ally win on the next court, but she had difficulty holding on to that feeling. The match looked like a dead heat until 3-3, when Amandine Dulon took a lead and kept it up through to 6-3. In the second set, despite a few good points, it was all Amandine to 6-2 win. She may not be going on to the next round, but Shadisha is off to the University of Georgia.
Many former college players were in action today. It was a Duke University match up on Court 7 as two former Blue Devils went up against each other. It looked as if the more experienced Vanessa Webb would take it easily, but Kelly McCain, who turned pro after a year at the school, shocked the crowd by coming back and taking the match, 3-6,6-4,6-3. Stanford doubles standout and graduate Gabriela Lastra squeezed past Kristen Schlukebir, 6-4,3-6,6-4, but another former Cardinal was not so fortunate. KJ Hippensteel was quickly eliminated by Amir Hadad, 6-1,6-2.
The last match I saw today was between Jamil Al-Agba, finalist of the Boys' 18 Super National Hardcourts, and twenty-ninth seed Ramon Delgado of Paraguay. The first set was all Ramon as he overpowered the nervous Jamil, 6-0. It looked to be a massacre until 1-1 in the second when the youngster began to relax and show his talent. He played through ralleys and even managed to win a few games before succombing, 6-3. Jamil will stick around for the junior championships before heading to the University of Southern California.
Until Tomorrow...
Monthly Guides to
College Tennis Planning
Available in Kindle & Print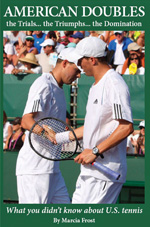 ---
---
Return to:
College And Junior
Tennis Homepage
---