Carly Gullickson


Megan Bradley

Ally Baker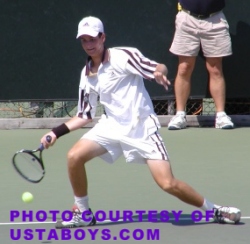 Brian Baker


Rajeev Ram
At The Open With Marcia Frost...
Tuesday, August 21st-Qualifying Day One
In the first match of the day, Carly Gullickson came out looking understandably nervous against Australia's Evelyn Fauth. Though she warmed up and looked willing to take some risks to win points, it was not enough to take the match. The USTA Super National Claycourt and International Grasscourt winner could not break through on the Open's Hard Court. She was only able to break Fauth's serve once (in the second set), but was quickly broken back. In just an hour Fauth took the match, 6-2,6-1.
The most impressive part of the match was the fact that Carly was able to hang on so well at only 14. She exhibited enough talent to show the crowd that they she will have many more opportunities to prove herself on this court.
The Megan Bradley/Yoon Jeong Cho match was quite a different story. Cho took the first set in a quick and easy 20 minutes while Megan, who is currently ranked No. 2 in the Girls' 18s, was in charge for the second set. The third set was up for grabs with both players battling into a tie-breaker. It was all Cho in the tie-breaker, though, and she took the match, 6-2,1-6,7-6(2).
Megan Bradley, who will be attending UCLA in the Fall, proved to be a fast and powerful opponent who lost the match on errors, not skill or speed. Perhaps her athleticism comes from her father, Phil, a quarterback at the University of Missouri who later went on to play Major League Baseball. (Coincidentally, Carly Gullickson's father Bill was also an MLB player.)
Unfortunately, a scheduling conflict caused me to miss the Ally Baker/Bahia Mouhtassine match. I will have another opportunity to check out the Super National Hard Courts finalist since she won her match, 6-2,6-1. Ally will next play No. 4 seed Martina Muller.
The boys also had their time in the sun today. The Boys' 18s top-ranked player, Brian Baker, played quite a power struggle against Tomas Zib of the Czech Republic. Though he lost 6-2,6-4, the score does not tell the whole story. Baker put up quite a fight and had a number of winners -- including a collection of aces -- Zib just continued to do one better each time.
Also in the men's draw was another show of strength between Rajeev Ram and Dmitry Tursunov. The players continued to outserve each other throughout the first set without even a rally. It wasn't until Ram took the first set 6-4 that the Russian began to extend the battle into groundstrokes. Though he held his own with lightening serves and volleys, the Easter Bowl winner succumbed, 4-6,6-1,6-3.
Another teenager made quite an entrance today. Cory Ann Avants may no longer be an amateur, but she's still a teenager at 16. She drew crowds (and fans) as she defeated the tournament's No.2 seed, Lubomira Bacheva of Bulgaria, 4-6,6-3,6-3.
Until Tomorrow...