At The Open With Marcia Frost...
Thursday, August 21st-Qualifying Day Three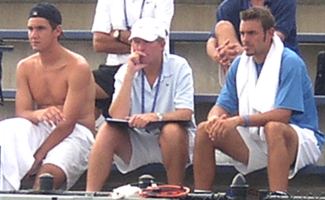 Amer Delic, Coach Craig Tiley & Brian Wilson watch teammate Rajeev Ram
It was the final day for the college and junior players in the Qualifying draw. They gave it their all, but a trip to the main draw singles was not in the cards this year.
Despite the fact that this was his fourth US Open appearance, Rajeev Ram appeared nervous at the start of his match against the thirty-two seed Jan Vacek. The first set belonged to the Czech as Rajeev's nerves had most of his balls into rather than over the net. Even though he got himself into a 1-3, 15-40 hole, the University of Illinois player won that game and got back on track. Unfortunately, the extra break was all Jan needed and he won the first set, 6-4.
The second set was a much closer match than the score showed. The points were long and Rajeev had some incredible volleys. In the end, even after surviving two match points, it just wasn't enough as Jan won it 6-1.
Ally Baker gave it a shot for the third year, but just could not break through. Most of the points were long and close as Ally moved Milagros Sequera around the court with ease. The No. 12 seed, however, managed to get every ball that was hit to her regardless of where it was placed. The first set was separated by just a few points when Milagros took it 7-5. In the second, Ally had less control, but gave it a try until the 6-2 end.
This was not the last US Open appearance this year for either Rajeev Ram or Ally Baker. Rajeev will be playing main draw doubles with partner Brian Wilson. Ally will play in the Junior Championships and is hoping to get a wildcard into main draw doubles. Tomorrow I will preview the college and junior players in the main draw
Until Tomorrow...