Jamea Jackson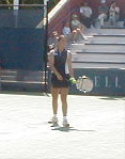 Claudine Schaul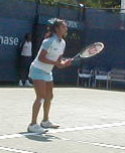 Sunitha Rao


KJ Hippensteel
At The Open With Marcia Frost...
Wednesday, August 22nd-Qualifying Day Two
After finishing yesterday watching the over six foot Rajeev Ram pounding serves, it was quite a contrast to go to a court this morning and watch the petite Jamea Jackson. At only 14 (she'll be 15 in just two weeks), Jamea seems to be half the size of Ram, but she packs a lot of punch in that small frame.
The first four games of the match were all Jamea as she easily took each game. As Lourdes Dominguez Lino found her game, however, the challenge began. Jamea kept up the pressure on the Spaniard, showing her speed to a 6-3 set win. Set two was a little tougher for her, with long rallies and multiple deuce points. Jamea prevailed in the end, 6-4. She will next face fellow American Erika De Lone, who ousted No. 7 seed Seda Noorlander, 6-0,6-4.
While Jamea took control of Court Four, Ytai Abougzir was not so lucky on Court Seven. Justin Gimelstob, a seasoned pro who had been sidelined with injuries for long enough to force his ranking down, quickly eliminated the Florida resident, 6-0,6-2. Though Ytai is currently ranked No. 8 in the world of ITF Juniors, he just didn't have the experience that Justin brought with him through the junior, college and professional ranks.
In an all junior afternoon match, Luxembourg's Claudine Schaul faced another Floridian, Sunitha Rao. Claudine had just turned 18 two days ago and had spent the past year playing both junior and senior events on the ITF circuit. Sunitha brought with her some experience overseas -- including a semifinal showing at the Australian and a quarterfinal meeting at the Astrid Bowl -- but it wasn't enough to make up for the difference of three years of experience. There were quite a few break points that Sunitha just couldn't follow through on. Despite being quick on her feet and hitting some winners, she lacked the confidence of the older player and succumbed, 6-2,6-2.
One player not lacking confidence today was KJ Hippensteel. The Stanford senior showed a lot of strength and guts coming into his match against the No. 8 seed Michael Llodra of France. Even though Michael kept hitting (and serving) winners, KJ battled back until the end, proving his All-American status. Michael prevailed on what was mostly a match of powerful serves and few groundstrokes.
Until Tomorrow...