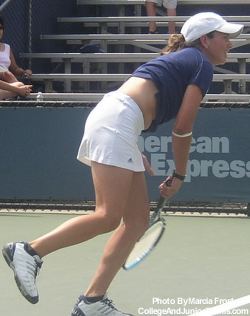 Jessica Lehnhoff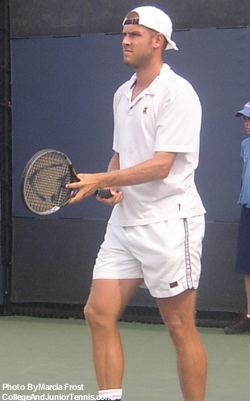 Alex Waski
At The Open With Marcia Frost...
Thursday, August 22nd-Qualifying Day Three
With all of the amateurs gone from the Qualifying Singles and no Qualifying Doubles this year, I had a chance to catch up on some of the players who made the jump from college tennis to the pros.
Recent Florida graduate (and this year's NCAA finalist) Jessica Lehnhoff advanced to the third and final qualifying round. Though she had a temporary lapse in the second set, Jessica was in charge of most of the match and took it, 6-4,0-6,6-0. Jessica's final qualifying match is tomorrow against Maret Ani.
Former San Diego State standout Alex Waski survived a tough one against Konstantinos Economidis of Greece, 7-5,7-6(5). Alex now plays Magnus Larsson.
While there won't be anything to report tomorrow from the US Open in the college and junior tennis world, there will be much more to come. Saturday is our report on Arthur Ashe Kids' Day, featuring BBMack, Vanessa Carleton and a host of tennis celebrities. Monday starts Main Draw play and the the singles and doubles draws will have more college and junior players.
Until Tomorrow...
---
Return to:
College And Junior
Tennis Homepage