At The Open With Marcia Frost...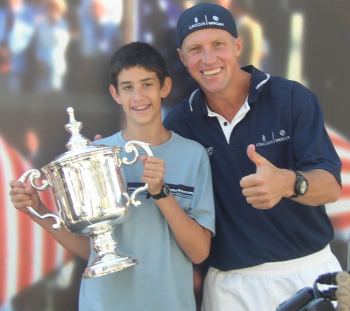 Saturday, August 23rd-Arthur Ashe Kids Day
The eighth annual Arthur Ashe Kids' Day was even more of a success than the previous years in part due to some rare perfect weather.
Arthur Ashe Kids' Day, presented by Aetna, serves the memory of one of our greatest players by benefiting youth-oriented charities and the National Junior Tennis League. Admission onto the grounds is free for all and there is a reasonable ticket fee for the stadium show. Crowds poured into the National Tennis Center where there were set-ups and characters by the Cartoon Network, jugglers on stilts, face painters, photo opportunities with the stars (Luke Jensen and fan pictured right), tennis exhibitions and musical acts performing in the middle of it all. Fifteen of the courts each had different activities for the kids to try -- everything from an IBM Speedzone to and American Express Skills Challenge.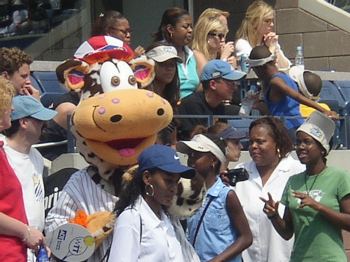 The stadium show offered a wide variety of musical acts this year. Olympic Gold Medalist Summer Sanders and MTV VJ Quddus hosted the taped for television event. Smash Mouth performed their hits All-Star, I'm A Believer and Walkin' on the Sun. Also on hand was R&B singer Monica (So Gone) and British pop star Daniel Bedingfield, who sang his current hit, If You're Not The One.
Between the musical acts there were tennis exhibitions by some of today's top players and tomorrow's stars. Robby Ginepri, Maria Sharapova, Mardy Fish and Shenay Perry played a game of "Tennis Survivor" during which the audience voted off players. In the end it was Maria and Shenay who were left standing in a tie. The very popular "American Express Challenge" was played for charity by Anna Kournikova, Andre Agassi, Chanda Rubin and Andy Roddick hit the American Express boards to win money for their favorite charities. (Andy filled in for James Blake, who was playing the semis at the TD Waterhouse Cup.) Andre turned out to be this year's biggest winner.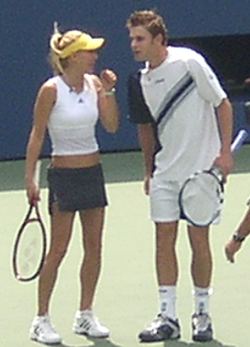 The stadium show ended with a match between Andy and Andre (a preview to the men's final?) that was umpired by Anna. The men grunted and Anna joked through the ten-point tie-breaker which was won by Andre. The show was enjoyed by all and will be televised by CBS on Sunday.
Following the show and Kids' Day events was the World Team Tennis final. The Delaware Smash team of Paul Goldstein, Liezel Huber, Scott Humphries and Samantha Reeves took on the Sacramento Capitals team of Ally Baker, Maark Knowles, Elena Likhovtseva and Daniel Nestor. Delaware Smash won their first title, 21-14.
Arthur Ashe Kids' Day was a great beginning to the greatest tennis event in the U.S. Let the games begin.
Until Monday (no play tomorrow)...