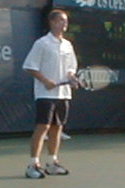 Alex Bogomolov
David Nalbandian
Ashley Harkleroad
At The Open With Marcia Frost...
Tuesday, August 28th-Main Draw Day Two

What a difference a year makes. That's all David Nalbandian had on eighteen year-old Alex Bogomolov. The key is that David spent that year on the pro circuit.
In sharp contrast to the girls' matches in the early afternoon, Alex and David came out hitting hard and serving fast. Both players looked sharp and Alex didn't even lose his confidence when David took the first set 6-1. Alex, who earned his place in the draw with a win at the USTA Super National Hard Courts in Kalamazoo, hit back in the second set, serving aces and returning winners. David began to lose his serve, swinging five faults in a row to give Alex the set at 6-3.
Through two more sets of close games, Alex kept right on going, but David was always one better. The Argentinian showed the stamina that had earned him a spot in the top 15 of the ITF Junior World Rankings in 2000. He took the match, 6-1,3-6,6-4,6-4.
Ashley Harkleroad, who although a professional has continued to play junior international events this year, had quite a battle against former teen star Meilen Tu. The crowd was cheering for Ashley all the way, but it wasn't clear if it was because of her excellent tennis skills or her revealing outfit. The first set was close with Meilen squeezing by 6-4, then Ashley took the second set 6-2 and the third was up for grabs. In the end the popular teen was defeated, 6-0 in the final set.
Last year's US Open Junior Champions were scheduled for first round matches today. Maria Emilia Salerni was defeated in less than an hour by twenty-seven year old German Anke Huber, the No. 17 seed, 6-2,6-4. The eighteen year old Argentinean has been playing pro events this year. As for last year's boys' champion, Andy Roddick will be playing a late match tonight in front of his (many) adoring fans in Arthur Ashe stadium.
Until Tomorrow...