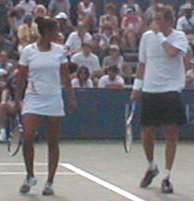 At The Open With Marcia Frost...
Thursday, August 30th-Main Draw Day Four

The past met up with the future today as former UCLA player Justin Gimelstob joined with incoming Bruin freshman Megan Bradley for a game of mixed doubles. And I have to say, I never saw two people have so much fun losing.
Megan and Justin were unfortunate enough to draw No. 3 seeds and longtime partners Kimberly Po-Messerli and Donald Johnson. They lived up to their reputation as outstanding mixed doubles players, outserving and volleying. At one point, Kimberly even served an ace against Justin, causing him to remark in laughter, "Wow, that was embarrassing!"
Neither Megan nor Justin are slouches in the serve and volley department. Both are excellent doubles players, but they just couldn't get it together. Though they played out some exciting points, even extending the No. 3 seeds to three match points, they lost 6-3,6-2.
There were some other matches pertinent to the college tennis world today. The University of Arizona's Steven Capriati teamed up with sister Jennifer for a game of mixed doubles. It was a real crowd pleaser that unfortunately was on one of the lower courts and had fans lined up for hours to see. The duo fell to Virginia Ruano Pascual/Lucas Arnold, 7-5,6-3.
For a year, Stanford's Laura Granville and Duke's Ansley Cargill opposed each other on the college tennis courts. They wound up the 2000-01 season as No. 1 and No. 2 respectively. Then this Summer both talented players turned professional. Now, the two have joined forces to form a doubles team. Though their first Grand Slam outing produced a lost to No. 13 seeds Justine Henin/Meghan Shaughessy, I would keep a watchful eye on this talented doubles team.
Until Tomorrow...