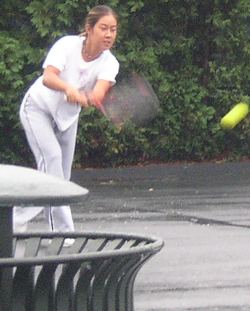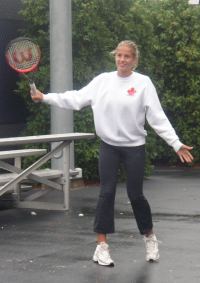 Some players couldn't wait for courts to dry and played wherever they could
At The Open With Marcia Frost...
Tuesday, September 2nd
Junior Championships, Day Three -- Or It Should Be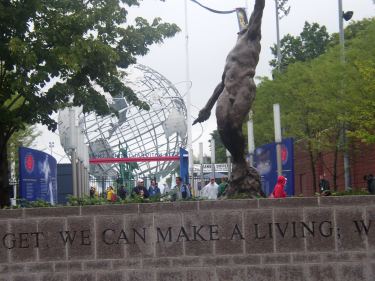 It's 6:00 pm and there still has not been a match played at the US Open. It was another day of rain here in Flushing, New York. As the tournament directors talked about everything from extending the tournament to moving the Junior Championships indoors, the players just wanted to play.
There were few breaks from the rain today and the forecast for the rest of the week is not good. Players did take advantage of some rare free time to just hang out and play card games in the players lounge. Tournament officials even brought in an electronic "putting game" so they could practice their golf swings while waiting to swing their racquets. It made for quite the scene, watching all the juniors and pros mingle and wait. (Unfortunately, we are not allowed to take pictures in the players lounge.)
Boys Singles Draw Boys Doubles Draw
Girls Singles Draw Girls Doubles Draw
Until Tomorrow... For Tennis, I hope...
TENNIS CELEBS
Click For Free Trial
---
---
Return to:
College And Junior
Tennis Homepage