At The Open With Marcia Frost...
Thursday, September 2nd
Main Draw, Day Four

While Stanford alumni took over the courts this evening, the Cardinals were not flying high. The only ones of the group to make it on to the next round were Bob & Mike Bryan.
NCAA doubles champions KC Corkery and Sam Warburg came out swinging high today, with many of their volleys going right over heads and fences. They served hard and certainly had the crowd support, but it just wasn't enough to get past Spain's Alberto Martin and David Sanchez. The first set was tight until the end as all four players hit balls at lightening speed. It was just one break in each set that separate the Stanford duo as they lost it, 6-4,6-4.
The other former Stanford players on the court today also made their way into NCAA championship finals. Laura Granville, a two-time NCAA singles winner, and Scott Lipsky, a doubles finalist, made a great mixed doubles pair. It was an exciting match that could have been a launching pad for the duo had they not drawn the top seeds in the first round. Rennae Stubbs (a US Open doubles winner) and Daniel Nestor (a US Open doubles finalist) put their experience together for an unbeatable team, dismissing the former Cardinals, 6-4,6-3.
USTA National Hardcourts winners Riza Zalameda and Audra Cohen got into the next round the easy way -- when their opponents defaulted. They will play a second round match tomorrow against Jennifer Hopkins and Mashona Washington. Also tomorrow is the start of the Qualifying for the US Open Junior Championships. This year it will again take place in Flushing Meadow Park, just outside the gates of the National Tennis Center. Admission is free to watch the matches as thirty-two boys and thirty-two girls go for eight spots each in the main draw, starting on Sunday.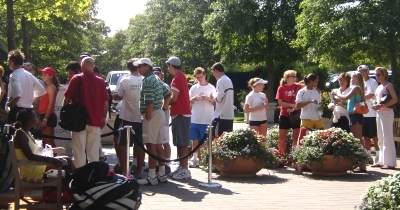 The Juniors line-up at registration today.
Until Tomorrow,
Marcia Frost
Click on a photo to enlarge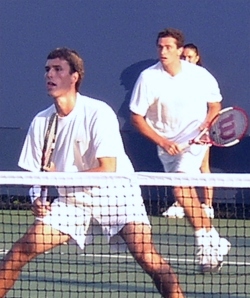 Sam Warburg &
KC Corkery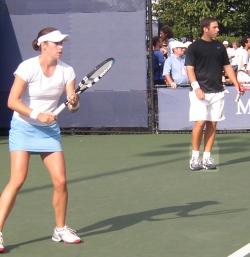 Laura Granville &
Scott Lipsky
Return to:
College And Junior
Tennis Homepage