Click On A Photo To Enlarge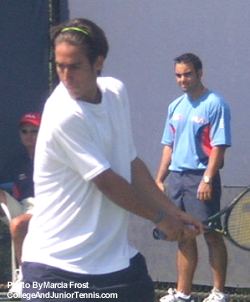 Nestor Briceno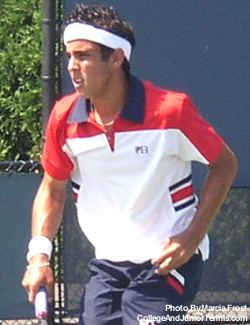 Jarrett Chirico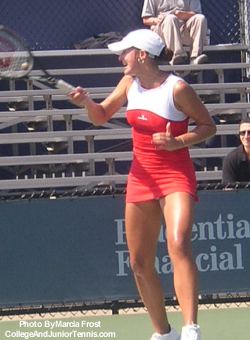 Tory Zawacki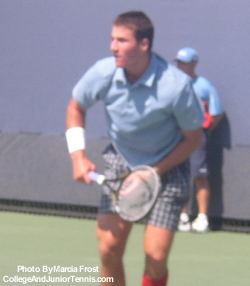 James Pade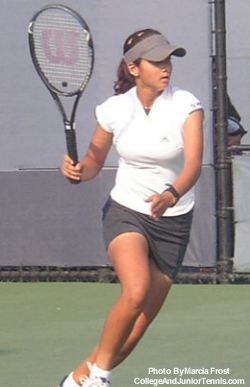 Sania Mirza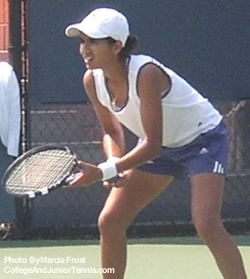 Neha Uberoi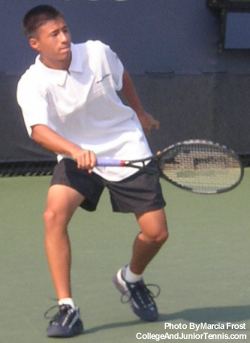 James Wan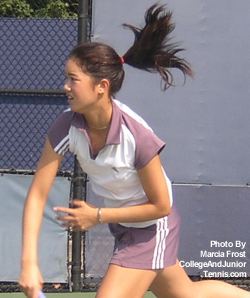 Amber Liu
Alexander Skrypko
At The Open With Marcia Frost...
Tuesday, September 3rd-Junior Championships Day Three
What do you do after a two day rain delay? You play 64 matches in one day to make it all up. I have never seen anything like it. Juniors, Juniors... everywhere. It was nearly impossible to choose where to start, but I picked some matches and put on my running shoes.
There is no doubt that the match of the day was between Roman Kutac of the Czech Republic and American Nestor Briceno. The 16 year old Floridian withstood a grueling battle that spanned over three and a half hours. Included in that time was a brief intermission at 3-2 while Nestor proceeded to vomit all over the court! A medical trainer was called, the court was cleaned, and the match resumed. Though the first set did go to a tiebreaker with Roman edging it out 7-6(8/6), Nestor won the other (very long) sets, 6-2,6-4.
The match two courts down was the very opposite. Brendan Evans, the sixteen year old who recently turned professional, dismissed incoming Stanford freshman James Pade, 6-2,6-1. James just could not hold his own against Brendan today as the youngster had the match in just under 45 minutes.
American Tory Zawacki, who last year made it through the Junior Championships qualifying and then went on to win a round, did not make any waves this year. China's Shuai Peng, the No. 10 seed, had control over the 17 year old Jersey girl. Though the service breaks went back and forth throughout the match, it was Shuai whom managed to keep them and took it 6-4,6-2.
It looked like India's Sania Mirza had what it took to beat native New Yorker Shadisha Robinson. The first set was an easy 6-1 for Sania, but Shadisha was not ready to go home. She brought out the power in the second set and was a 6-2 winner. The third and final set was was anyone's guess, as Shadisha and Sania traded shots. In the end, with the hometown crowd behind her, it was Shadisha's match with 6-4 in the third.
There seemed to be no doubt that Carly Gullickson had what it took to overpower the petite Neha Uberoi, 6-3,6-3. At the same time, Kristen Schlukebir was quickly eliminating Audrey Bergot, 6-3,6-4.
While the most Americans continued to move on to the next round, eleventh seeded Amber Liu did not. In a surprising match, the 18 year old, who has remained on top of the Girls' 18 rankings all year, just couldn't get it together today. Marina Tavares defeated Amber quite easily, 6-3,6-2.
Also having an easier time of it today than expected was Robert Yim, who won his first round match over Alexander Skrypko of Belarus. It looked as if Robert was going to end the match quickly when he commanded at 5-1 lead in the second set (he won the first 7-5), but Alexander wasn't going that easy and held him until he dropped it at 6-4.
The other tough loss of the day was that of James Wan. James, who had come through the qualifying after beating the top seeded Peter Steinberger, spent hours on Court 6 trying to fend off Great Britain's David Brewer. The first set went to a tiebreaker and David squeaked by, but the second belonged to James. After his 6-1 second set, it appeared as if David had tired and James would take the match, however, David got a second wind for a 6-3 third set.
The final junior match of the day was an interesting battle between thirteen year old Julia Cohen and fellow American Jamea Jackson. It was two years ago that Jamea caused a sensation here when -- at thirteen years old -- she created upsets. It was obvious from the start that Jamea had used those two years to gain experience and strength. She commanded the match and though Julia did get in some good points and was not totally out of it, she dropped it 6-2,6-1.
The almost comeback kid award goes to last year's doubles finalist Brett Joelson, who was down a 1-6 set to Adrian Ungur. Brett came back to win the second, 6-3. Then, down 2-5 in the third, he brought it up to a tiebreaker. Brett lost in by just a notch -- 7/9 in the breaker.
Until Tomorrow...
Create an Amazon Wedding Registry
Create an Amazon Wedding Registry
Return to:
College And Junior
Tennis Homepage