At The Open With Marcia Frost...
Friday, September 5th
Junior Championships, Day Five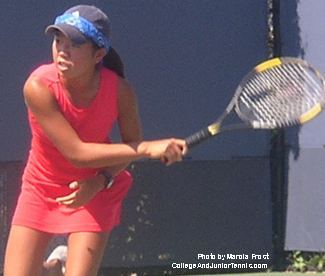 Vania King
When the Junior Championships began, there were twenty-two Americans in the girls singles draw. At the end of tonight, with the round of 16 complete, there was only one -- qualifier Cory Ann Avants.
Cory Ann Avants hadn't played many junior tournaments this year and she was forced to qualify for the singles event. Today she proved her worthiness in the Junior Open Championships by first squeezing by Shuai Peng, 2-6,7-5,7-6.
After a few hours rest, she faced Shahar Peer for a much easier, 6-2,6-3 win. The match was in contrast to the power matches I had seen so much today. It was much more about Cory Ann being steady and placing her shots (many of which were drop shots). It was almost like watching a ballet as the lone American girl glided her way to the quarterfinals.
There are basically two things you can do when you find out you have to play the No. 1 seed. The first is to pack your bags. The second is to go out swinging. Lindsay Burdette did the latter against Bethanie Mattek. Though she had a set and Bethanie was not without errors, she does have the experience she gained on the pro tour that helped her close it out 6-3,5-7,6-2.
Unfortunately for Bethanie, someone came along and taught her the lesson that she tried to give to Lindsay. In the round of 16 Katerina Bondarenko upset the top-seed, 6-0,4-6,6-4.
It was another tough US Open loss for Ally Baker today. The talented teen does not seem to have much luck at the National Tennis Center and today was no exception. Ally had a quick and easy first set win, 6-2. It was just after that when Ana Ivansovic came alive. She fought back with determination to a 6-3 second set. The third was tight until the end with the only break coming at the end. Just a few extra points and a couple of mishits and the fourth-seeded Ally went down 7-5.
It's quite interesting watching two of the quickest players in the draw against each other. When you put Ryoko Fuda and Mary Gambale together, play can make you dizzy. Both scramble for saves and hit the balls at lightening speeds. The match was actually much closer than 6-3,6-3 Ryoko as there was but a few points between them.
Wildcard Vania King certainly met her match today. The fourth-seeded Kirsten Flipkens dismissed her, 6-1,6-1. Vania did have a triple break point at 3-1 in the second, but Kirsten was not about to give anything up.
The American boys did much better than the girls. In fact, they have been creating upsets. Though there are only two left in the round of 16, they have certainly earned their place there.
Jamil Al-Agba made his statement in his last Junior Open Championships. In a match highlighted by Leonardo Kirche's temper (and subsequent code warnings), he held his cool and his serve for a 6-4,6-4 win over the fifteenth seed. It looked like Jamil might pull off a second upset of the day when he took the No. 2 seed Florin Mergea to a third set. There just wasn't enough left in the Californian and he left the event with a respectable 6-0,4-6,6-4 loss.
It was a good day for wild card Scoville Jenkins. First he displayed skill and confidence as he eliminated eleventh-seeded Bruno Rosa, 6-3,6-2. He then hung on to that power and took out the No.6 seed, Daniel Gimeno-Traver. Though Daniel put up up a fight, it was still Scoville's match, 4-6,6-1,7-5.
What happened on Court 14 this afternoon is not quite clear. Alex Kuznetsov came out in control over the match and Mathieu Montcourt. It seemedas if he could do nothing wrong. He took the first set at 6-3, but then... it all seemed to disappear. The control of the match and the control of his game. Alex was overplayed by the No. 7 seed, 3-6,6-4,6-3.
The first match of the day was actually a Pro Amto benefit the NJTL with former junior tennis player Matthew Perry. Our favorite friend led his team to victory with a few laughs along the way.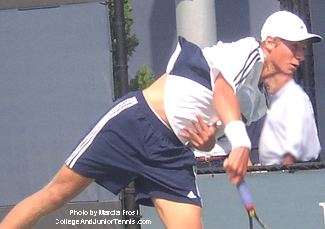 Alex Kuznetsov
Boys Singles Draw
Girls Singles Draw
Until tomorrow...
P.S. The USTA is once again selling $5 Grounds Passes for Sunday. If you live in the tri-state area, come watch the Junior & Senior Finals up close and then stay to watch the Men's Singles Final on the big screens.