At The Open With Marcia Frost...
Saturday,
September 6th
Junior Championships, Day Six
Quarterfinals & Semifinals

With one adult exception (thank you, Andy Roddick), dreams of an American champion at this year's US Open ended today with the elimination of the final three -- Cory Ann Avants, Brian Baker and Scoville Jenkins.
Cory Ann (above) hung in there until the end today. She got through her quarterfinal match against Ana Ivanovic, 6-2,6-4. Cory didn't seem to even break a sweat in that match as she made it look easy. Her second match of the day was a totally different story.
Fourteen year old Michaela Krajicek was creating a buzz all tournament. As the public flocked to see Richard's baby sis, she proved that she was a tournament player in her own right. She dismissed the fifth-seeded Tatiana Golovin, 6-1,6-4, before facing Cory. The young American certainly had to sweat this one out, putting in her best effort before falling, 6-2,6-2.
Scoville Jenkins had no intention of leaving without a fight and that is just what he gave Marcos Baghdatis. Scoville had a tough 6-1 loss in the first, but he came back in the second, battling to the 7-6(4) end. The eighteen year old from Cyprus then used his tremendous serve to quickly eliminate Dudi Sela, 6-2,6-1.
Though he recently turned professional, Brian Baker was expected to be the biggest winner in the Boys Singles. Jo-Wilfried Tsonga destroyed those hopes. Like many of the boys matches today this one was ruled by the serve and Jo-Wilfried had an incredible one. He out-aced Brian, 6-3,7-6(2). The Frenchman used that power again on the No. 2 Florin Mergea for a 6-4,6-4 entry into tomorrow's final against Marcos Baghdatis.
Justine and Kim are not the only Belgiums in the finals at the US Open. Kirsten Flipkens, who was last year's girls doubles winner, set her place in tomorrow's final. And it wasnn't easy. Kirsten faced two three-setters today.
Unseeded Volha Havartsova, who is just 15 years old, increased the pressure against the fourth-seeded Kirsten. Volha was not happy losing the first set, 6-1, and pushed Kirsten to drop the second, 6-4. It was a close one in the third, but the sixteen year old got it 6-3. Her semifinal against Katarina Bondarenko was another battle that Kirsten won, 6-1,4-6,6-2. It was surprising that Katerina even had the energy left to take it that far after her 6-4,6-7,7-6 marathon against Ryoko Fuda.
Tomorrow will be the final day of this 2003 US Open Junior Championships and it will be an exciting one. As Andy Roddick attempts to be the first one since Stefan Edberg to have won both the Boys & Mens singles championships here, two boys will be trying to earn their opportunity to do the same -- Jo-Wilfried Tsonga and Marcos Baghdatis. Also looking for a place in history will be Kirsten Flipkens and Michaela Krajicek. We will just have to wait and see who does pick up those trophies.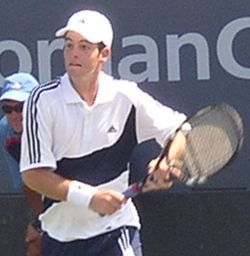 Boys Singles Draw
Girls Singles Draw
Brian Baker pictured right
Until Tomorrow...
P.S. The USTA is once again selling $5 Grounds Passes for Sunday. If you live in the tri-state area, come watch the Junior & Senior Finals up close and then stay to watch the Men's Singles Final on the big screens.