At The Open With Marcia Frost...
Saturday, September 7th
Junior Championships Day Seven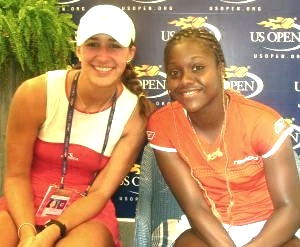 Patriotism has never been so alive -- especially in New York -- and there has never been a better time for Americans to take center stage. Tomorrow, though not in junior singles, there will be five Americans going for trophies. Everyone already knows about Pete and Andre, but also on that list is Tory, Shadisha and Brian.

Despite their professional status, Cory Ann Avants and Shenay Perry didn't have what it took to get past Shadisha Robinson and Tory Zawacki on their hometurf. Shadisha, from right here in Queens, and Tory, from New Jersey, had it all together more today than any other day. Their serves and volleys were right on and they took the match, 6-4,7-5.
I spoke to Tory and Shadisha after the match. Tory agreed that they "played really good today. It was the best match of the tournament so far." When asked how they ended up playing together, she said, "We're always playing with different partners. On these trips everyone just kind of pairs off."
The last time there was an American team in the US Open Junior finals was 1997 when Marissa Irvin and Alexandra Stevenson played -- and won.
Brian Baker and partner Chris Guccione of Australia didn't have to work at all for their place in the finals. Steve Darcis of Belgium and Ross Hutchins, a Wimbledon native, were forced to withdraw after Ross was stricken with appendicitis and rushed to the hospital. (The report is that Ross is doing fine.
In the other semifinal boys double, it didn't take long for Michel Koning and Bas Van Der Valk, the No. 5 seeds, to defeat Michael Ryderstedt of Sweden and Israel's Dudi Sela. The total match belonged to the seeds, who won their service games easily and challenged the others. In the end they took it 6-3,6-4.
The final doubles match was the semifinal between the second seeded Belgium duo of Elke Clijsters (a winner of the Junior Wimbledon doubles title) and Kirsten Flipkens against Ivanna Isroilova and Evgenia Linetskaya. The more experienced seeds had no trouble quickly dismissing Kirsten and Ivanna, 6-3,6-4.
After watching how 15 year old Maria Kirilenko could easily defeat the very talented Ally Baker in straight sets, I could only imagine what she would do to unseeded Jarmila Gajdosova. My imagination was not far off. In about 45 minutes, Maria crushed Jarmila, 6-0,6-1. The unseeded Slovakian, who had an incredible tournament run that included knocking off Kristen Shuklebir, just couldn't get anything past Maria.
In contrast, the first set between Barbora Strycova, currently the top ranked junior girl in the world, and Tatiana Golovin was a battle that took them to a tiebreaker. During the breaker, the slight edge for Barbora surfaced. She reigned in the extra points needed to win the breaker, 7/2, and then had no problem taking the match with an easy 6-1 in the second.
Both boys singles semifinals today were too close to call. In the first, Marcos Baghdatis of Cyprus and Sweden's Robin Soderling kept at each other with service breaks hard to come by and even harder to keep. It came down to not one but two tiebreakers and Marcos showed why he was seeded a little higher by taking those breakers 8/6 and 7/4.
The last boys singles match had even more people at the edge of their seats. Ryan Henry, the unseeded Aussie who had upset his way to the final, took charge as he rushed to net and took the first set easily, 6-3. In the second set, however, Richard Gasquet, the top seed, was not letting go and rushed right in at Ryan. Richard survived two match points and brought it to a tiebreaker, which he won 7/4. The final set was another close one as Richard squeaked by, 6-4. When I asked Ryan if he was satisfied with his overall results in the tournament, he said, "In a lot of ways I am. I had two match points (today) -- it doesn't get any closer than that."
It certainly doesn't.
Until Tomorrow...