At The Open With Marcia Frost...
Sunday, September 7th
Junior Championships, Final Day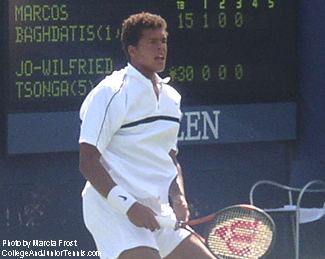 They may call it the "Boys" Championships, but it takes quite a man to stand as a finalist smiling with his arm around the winner. Marcos Baghdatis did just that today -- for the second year in a row.
Cyprus-born Marcos Baghdatis and French Jo-Wilfried Tsonga have faced each other in Grand Slams before. Both times Marcos proved victorious. The last time was at the Australian Open and he won that and the No. 1 ranking he has held most of the year. Unfortunately, as it was against Richard Gasquet last year, the US Open is not Marcos' Slam.
I have to admit that I enjoy watching the girls more. At this level the boys are mostly about powerful serves. The serve dictates the majority of point wins. In fact, many points don't make it past the serve. This match was not much different. The two boys, who both make France their home, held it to a tiebreaker in the first set. On the second Jo-Wilfried was able to break twice for his 6-3 win.
After the match Marcos had no regrets announcing that "I am very happy with myself." He was determined not to take the loss badly because he wants "to be No. 1 at the end of the year."
The reasons to celebrate in Belgium just keep on coming. It must be something in the chocolate. After an all Belgium Kim Clijsters-Justin Henin Women's Singles Final last night, Kirsten Flipkens took another one for the small country today. Kirsten, last year's girls doubles winner (with Kim's sister Elke), was pumped to win and had a large group of supporters behind her.
While she did hold her serve most of the time, fourteen year old Michaela Krajicek was challenged to many deuce points and possible breaks. Kirsten, on the other hand, used her incredible serve to win most of her games with little challenge. It was clear from early on that she would be the winner, though I'm sure Michaela's time will come soon.
After the match, trilingual Kirsten conducted interviews in Flemish, English and French. I asked if she was disappointed that they cancelled the doubles and she didn't have a chance to defend her title. She replied with enthusiasm, "It would have been great to win again in doubles, but I won in singles!!!"
As I watch Andy Roddick play for the Men's Singles trophy I can only reflect on three years ago when he picked up the win for the Boys Singles. It helps me feel the excitement and the future for Kirsten Flipkens and Jo-Wilfried Tsonga.
Until Next Year...