At The Open With Marcia Frost...
Saturday, September 8th
Junior Championships Day Seven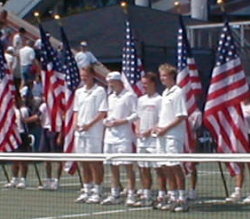 Left to right: Tomas Berdych, Stephane Bohli, Brett Joelson & Brendan Evans
When I spoke to Brett Joelson and Brendan Evans yesterday they weren't even concerned with whether or not they would win the final. They were the unseeded, wildcard team that miraculously made it into the finals of the US Open Junior Championships boys doubles. Today they gave it all the had and walked away with complete satisfaction, even though they lost.
From the beginning of the match there was superb serve and volley from both sides. The spectactors who had gathered was amazed that this was a junior doubles match by the high level of play. Though they had a break point in the third game, Brendan & Brett could not breakthrough in the first set. It was eighteen year old Stephane Bohli and sixteen year old Tomas Berdych who had the one and only break in the set to bring it to 5-4 and then 6-4.
The second set was a different story. There were service breaks for both teams as aces went back and fourth. In game No. 8, Brendan and Brett held off four break points before Stephane and Tomas took it. They ran with that lead and took the match, 6-4,6-4
During the presentation ceremony, Stephane Bohli paid tribute to the young American duo and said, "I would like to congratulate the players who got a wild card and played just great." It made the day even brighter for Brendan and Brett as they accepted their trophies to a salute of American flags.
The only other American player left in the tournament was also eliminated today. Sixteen year old Ashley Harkleroad, who has been playing both junior and professional tournaments since last year, lost to Marion Bartoli, 6-2,6-3, in the semifinals. Ashley had quite a run at the Open playing in the main draw singles, doubles and mixed doubles, as well as the junior singles and doubles. Her best showing came in the junior event.
Svetlana Kuznetsova defeated Marie-Gaianne Mikaelian in the other girls semi, 2-6,6-3,6-4. Svetlana then teamed up with Galina Fokina to win the doubles trophy later on, 7-5,6-3 against Jelena Jankovic/Matea Mezek. It will be interesting to see if Svetlana can pull off a double win this tournament.
In the boys' singles semifinals, it was Yeu-Tzuoo Wang all the way against Luciano Vitullo. They say "big things come in small packages" and that is certainly the case with Yeu-Tzuoo. The petite sixteen year old from Taipei hardly broke a sweat as he took the match, 6-0,6-4. Top-seeded Gilles Muller also had an easy time against Alex Bogdanovic, 6-3,6-4. Alex had a terrific tournament showing. After coming in unseeded, he defeated No. 8 Bruno Echagaray and No. 3 Brian Dabul. Alex became the first player from Great Britain to ever make it into the semis of the junior singles.
Until Later...
BOYS SINGLES DRAW BOYS DOUBLES DRAW