At The Open With Marcia Frost...
Sunday, September 8th
Junior Championships Final Day
When the day began it looked like there would be Americans taking top prize on the podiums, but when all is complete there will only be one. Whether that is Andre or Pete still remains to be seen at this moment. It is clear, however, that no American juniors received the top prize.
Maria Kirilenko did it again today. She went out, against the No. 1 seed and more experienced player, and made it look easy to defeat Barbora Strycova. It seemed as if the tiny Maria didn't even break a sweat as she broke Barbora's serve just enough to make a difference. In less than an hour she had a 6-4,6-4 win and a US Open trophy.
After the match Maria, who speaks little English, said, "I played her (Barbora) before and lost in the semifinals and this time I won. I was not nervous."
Marcos Baghdatis and Richard Gasquet had quite a large crowd for their match. The court was just in front of Arthur Ashe stadium and there were no matches there as of yet, so visitors had settled in to kill time. Instead, they were treated to a close contest.
Though Marcos had the first break and was serving for the set at 5-4, Richard came back and managed to take the set at 7-5. In the second set Marcos put up less of a fight and gave it up 6-2. In the end, though, the two had their arms around each other in commraderie during the presentation.
The spectacular run of the unseeded local girls came to an end today. The experienced duo of Elke Clijsters and Kirsten Flipkens overpowered them. Despite the homecourt advantage which came from the overwhelmingly supportive crowd, the girls just couldn't get it together enough to breakthrough and were defeated, 6-1,6-3.
The final junior match of the day had a late start. Since it was just minutes from the Sampras-Agassi match, there were few spectators for Michel Koning & Bas Van der Valk vs. Brian Baker & Chris Guccione. The match was as close as one could get. The only separation between the two teams, despite the fact that Michel and Bas play together often and are tied at fifteen in the world in doubles, was two points. They were only the points that the boys from the Netherlands used to break in each set. They took their trophies with 6-4,6-4.
There are times when coming in second isn't bad and a Grand Slam tournament -- especially one in the U.S. -- is still an honor for an American. There were some proud kids and parents out there today. When all was said it done they were all winners. Congratulations to Maria, Elke, Kirsten, Bas and Michel and to all the other kids who played their hearts out the last three weeks.
Until Next Year...
P.S. A special thanks to the wonderful drivers who this year not only had to chauffer the players, but also had to bring the press back and forth to the cars.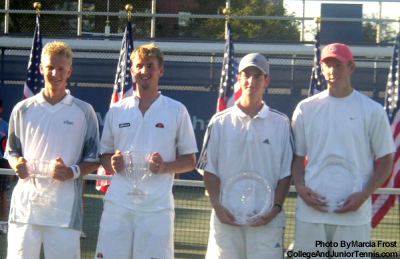 Doubles Winner Bas Van der Valk & Michel Koning
and Finalists Brian Baker & Chris Guccione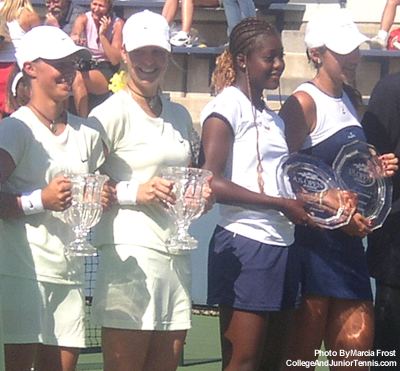 Doubles Winners Kirsten Flipkens & Elke Clijsters
and Finalists Shadisha Robinson & Tory Zawacki
Boys' Singles Drawsheet Girls' Singles Drawsheet
Boys' Doubles Drawsheet Girls' Doubles Drawsheet